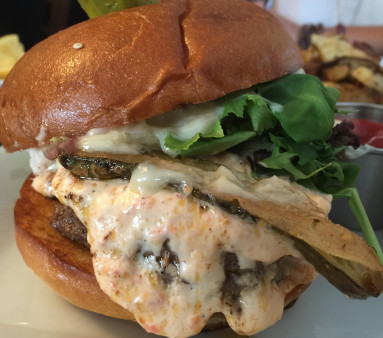 The Experience: Bedford Avenue in Bellmore has a reputation for housing many small restaurants and mom & pop shops. Being walking distance from the train station and abundant neighborhoods, foot traffic is this town's most valuable asset. When approaching Morning Rose Cafe from its red-bricked sidewalk, it is difficult to get a feel for what's happening behind the closed front door. Upon entering appears a small dining room, packed to its limit with smiling faces. After a short 10 minute wait, we were seated and ready to explore this breakfast heavy menu. Being almost noon, it seemed appropriate to steer towards a burger instead. That was an excellent decision.
The Burger: NOLA Burger
The Taste: MRC is known for its eggs, French toast, waffles etc. It is not known for its lunch options. This burger defied expectations. It was blackened, topped with pimento cheese, fried pickles, garlic aioli and mixed greens, all pinched between brioche buns. Admittedly, some mixed greens were removed to not receive a mouthful of salad. The flavors packed into this burger all worked nicely together, even the fried pickles! To describe it in one word: OOZING.
The Verdict: Plating and presentation were excellent when combined with pickle spears and house cut fries. Not the best burger to grace this earth, but as for Long Island it easily falls in the top 50%. If you are a local, stop walking by the unassuming front door and let yourselves be presently surprised.
Follow
@tasting_longisland
on Instagram for more local hidden gems! #gettasted #tastinglongisland