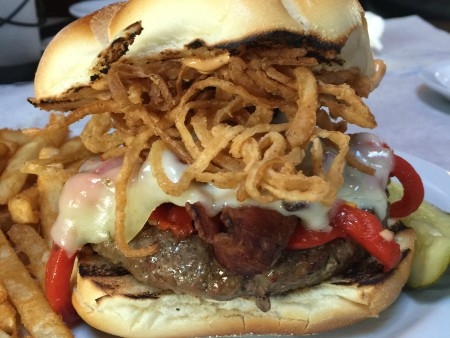 I've been to MJ's more times than I can count, so the experience is nothing new. There are five MJ's locations in the Jersey Shore area, and all of them have great atmospheres.  I'm biased towards the Middletown location, as you can always count on great service and an enjoyable meal. One of the best parts about MJ's is the specials menu, which is guaranteed to include a burger that any burger lover would have a tough time passing up.
Burger Ordered: Jumbo Route 35 Burger
The Taste: Prior to trying the Jumbo Route 35 Burger, which was a limited time burger from the specials menu, my favorite MJ's burger had been the Triple Onion Burger, which also happened to be a special. The Route 35 won me over from the start. As soon as I saw the new specials and that this burger was topped with pepper jack cheese, frizzled onions, and chipotle mayo, it was obvious what I was having for lunch. The burger is a nice, big 10 oz. patty, and it was also topped with roasted red peppers and Applewood smoked bacon. These were definitely not toppings that you usually see paired together but they gave the Route 35 Burger a unique and delicious taste. As usual, the bun was lightly toasted and the perfect size for this burger.
The Verdict: MJ's keeps me coming back with the consistent delicious burgers they serve, and this burger was no exception. Whether it's one of the nine burgers off the regular menu, or the burger from the specials menu, you can guarantee you're leaving full and satisfied.  The rest of the menu is quite good as well, so get on out to MJ's and give it a shot.
MJ's Pizza, Bar & Grill is located at 1005 Highway 35 North in Middletown, New Jersey.
Sign up for Burger Weekly email updates!