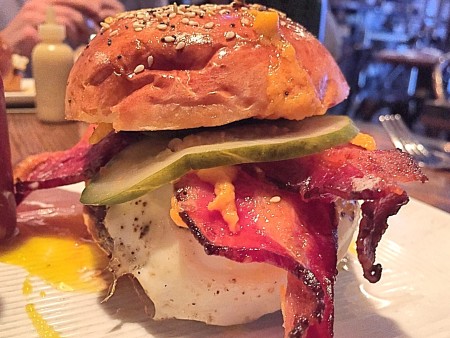 The Experience: Mindy's HotChocolate is located in Wicker Park, right in the middle of everything. There are tons of young, successful millennials out and about, so it would make sense that there are a number of top Chicago restaurants close by. Originally created to be a dessert restaurant, HotChocolate expanded its menu to include American classics, like the renowned cheeseburger. I have seen reviews for the "Hamburger" from HotChocolate on lists from Thrillist & Time Out Chicago. So I thought it would be a great spot to try out during the week, when I was able to get a table.
The Burger: "Hamburger"
The Taste: This burger is tasty! The homemade sesame bun was had the perfect amount of flavor that didn't take away from the Slagel Family Farms beef or the salty bacon. From the first bite, the pickles and cheese delivered a jammed pack punch but over time, the cheese became too pungent.
I defaulted to my waiter on whether an egg was a good choice or not, because I thought he would know best. It turned out that he didn't know best, by the time I was onto the second half of the burger, the juices from perfectly cooked medium rare meat and the egg yolk made eating the burger a chore. It took everything I had to not eat the hamburger with a fork and knife. I don't know about you, but a messy burger or deconstructed bun is a deal breaker for me. Don't get me wrong, the flavors in this burger were out of this world. But having to ask for napkins multiple times is a problem. I would recommend making the handmade sesame bun a bit sturdier.
The Verdict: I would definitely recommend checking out Mindy's HotChocolate. The beer menu is great, the wine list is good (though relatively expensive), the food is good and the dessert is supposedly awesome. I enjoyed my burger a lot, as I said, it was packed with flavor but fell apart.
Mindy's HotChocolate is located at 1747 North Damen Avenue in Chicago, Illinois.
Sign up for Burger Weekly email updates!