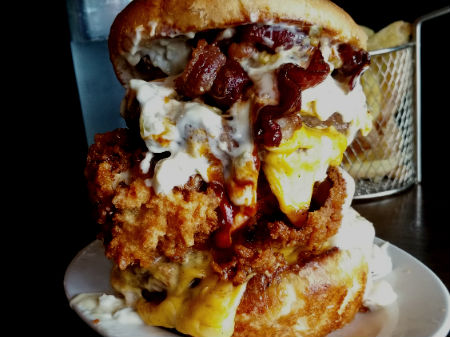 The Experience: When up in Sydney while I was away, I was planning to keep my burgering to a standard level.  But then i found milkbar_cafeish, a hip little place out in Redfern, not too far from the main part of Sydney. This joint has a menu full of choices, some of which will blow your mind. I was highly impressed and had a difficult time making my mind up as to what to order. After some talking with Chef Josh, I came to a decision.
Burger Ordered: The Barnyard with extra patties
The Taste: This baby usually comes standard with two beef and a chicken. That's epic on its own, right? But being on holiday and feeling crazy, I asked to add one patty but got mistaken for two, and who am I to complain? This thing was off its nuts with flavor. I was hit straight away with the smokey barbecue sauce, and the aioli was fresh along with chunks of jalapeños throughout. The beef was juicy and flavorsome, and the chook (chicken, for you non-Aussie readrs) definitely had a good paddock to graze in and was coated superbly. The cola bacon was interesting, and gave the bacon a different feel with a nice crisp but not overpowered by a cola flavor.
The Verdict: After finishing, I had a chat to Chef Josh and was very surprised that the buns were house made daily. They were quality and did not break or crumble under the tremendous stress. They also house make some epic donuts.
Milk Bar by Cafe Ish is located at 105 Regent Street in Redfern, Australia.
Check out more Australian burger adventures at Damoforce.
Sign up for Burger Weekly email updates!