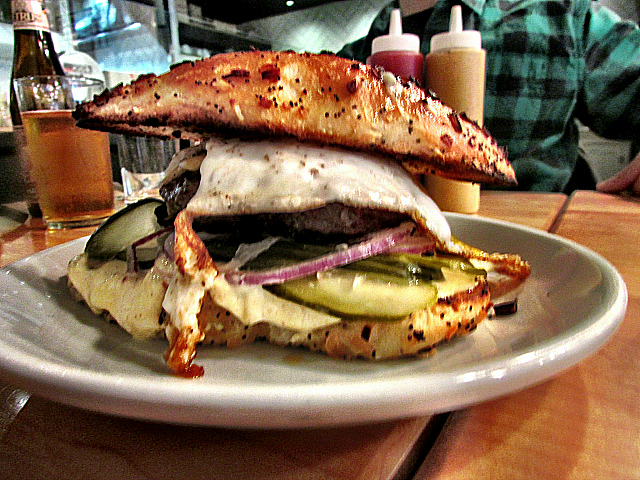 The Experience: Passover is in full swing, so much of the world's Jewish population is trading in bread for matzah for the week. I for one can't stay away from burgers long enough to properly observe this holiday, but I felt it was my duty to at least feature a burger at a restaurant that pays homage to the Jewish smoked meat heritage of the neighborhood. Mile End not only does that with their burger, but they also held Passover dinners for those without a place to celebrate. They are mensches through and through, and so their Smoked Meat Burger is this week's featured burger.
Burger Ordered: The Smoked Meat Burger
The Taste: The smoked meat patty is topped with a fried egg, pickles, red onions, mustard-mayo, and American cheese on an onion roll. I ordered mine as-is. I brought along with me two coworkers who exemplify modern Jewish attitudes towards food. Eliran, on loan from Israel, ordered his burger with everything on it except cheese. You know, kosher style. Evan, on loan (permanently) from Long Island, is a little more particular. He ordered his egg on the side and ritualistically added ketchup to his burger. Small differences in our orders aside, we all agreed that the burger was delicious. The smoked meat is distinct but not overpowering. The pickles added an incredibly necessary crunch. The fried egg was a savory balance against the sweet pickle. The burger was a giant mess, however. The onion roll, while tasty, could not come close to handling the heft of the rest of the burger. It fell apart completely, but was still fun to eat in pieces.
The Verdict: If you're in the mood for a distinctly Eastern European tasting burger (in the thematic sense, not the sense that this is how burgers are made in Eastern Europe), then this is a completely appropriate burger for you.
Mile End is located at 97A Hoyt Street in Brooklyn, New York.