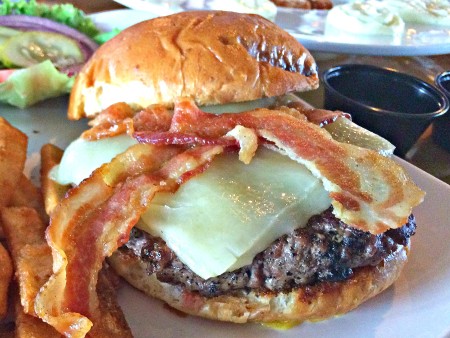 The location of McGee's No.72 has housed several other restaurants over the years, and for some reason nothing seems to last more than a couple of years. It's near a pretty busy intersection, so I'm not sure what the troubles have been there. McGee's is relatively new, but have built up a good reputation in a short amount of time, so I needed to get there and tell everyone about the burger.
Burger Ordered: Bacon White Cheddar
The Taste: McGee's cut their own steaks in house, and that allows them to make their signature burgers from a blend of filet mignon, New York strip, and prime rib. This makes for a unique flavor that you can only get at McGee's, which is always a great selling point for a burger. This is a fairly simple option, topped with crispy bacon and white cheddar, and they do a nice job working with the custom burger blend for a truly excellent burger. Also, the table got an order of Risotto 'Tater Tots,' flash fried and served with ancho chili ketchup and smoked bourbon and truffle aioli, and they nearly overshadowed the main course.
The Verdict: Hopefully McGee's No.72 will stick around, because the menu is excellent and they do a great job with everything I've had there. In addition to the Bacon White Ceddar, they also offer Classic, Mushroom Swiss Burger, and Blue Cheese Crusted options, so there's plenty for Burgermeisters to indulge in.
McGee's No.72 is located at 4341 M72 East in Whitewater, Michigan
Sign up for Burger Weekly email updates!