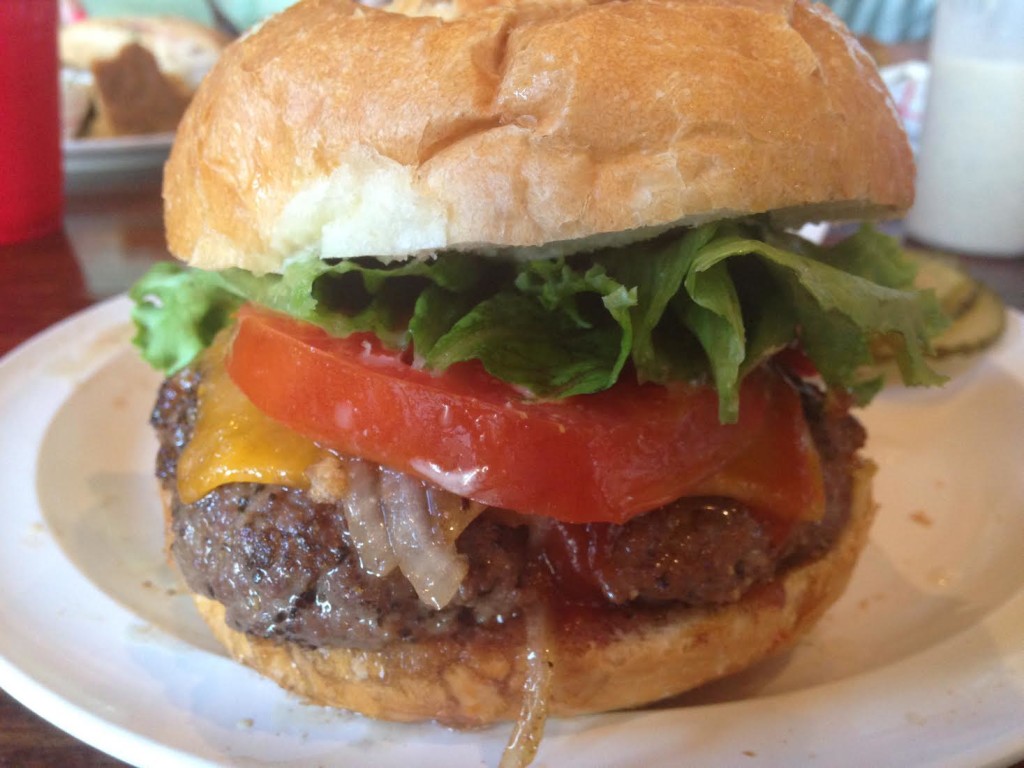 The Experience: I've enjoyed McClure's Barbecue on multiple occasions, but it never occurred to me to try their burger until I saw it on a "top ten burgers in New Orleans" list. As hard as it was to resist their brisket platter with a side of mac and cheese and cornbread, I committed to my inner Burgermeister this time around.
McClure's offers three burger selections: Classic American, Bacon & Blue, and Swiss & Mushroom. While I appreciated that a BBQ establishment would include a vegetarian option, I was not here to be a vegetarian. I ordered the Classic American, a quarter pound of beef on a toasted Dong Phung bakery roll with cheddar, smoked onions, lettuce, and tomato, along with a side of creole potato salad.
Burger Ordered: The Classic American
The Taste: That first bite was the best part, as the juices poured out of the meat in the most deliciously messy way. Despite it being cooked medium when I ordered medium rare, those juices still made all the difference. Beyond that initial bite of juicy beef, the standout taste was the delicious smoky sweetness of the onion.
One of my favorite things about McClure's is their selection of sauces, which each come with a recommended meat that compliments the flavor. While none of these are specifically recommended for their burgers, I paired my ketchup with both South Carolina sauce (mustard base with rosemary) and Alabama sauce (mayonnaise base with black pepper). This made for a delicious, tasteful blend.
I only wish that the burger shape was a little flatter, as I found it to clash with the shape of the bun. The roundness of the patty did not necessarily affect the taste or texture, but it did make it a bit difficult to eat the burger. I had to be strategic with each bite.
The Verdict: Burgers might not have been what initially led me to McClure's, but if you are in the market for a solid burger at a good price with a local charm, McClure's is a great option. Grab a beer across the street at Le Bon Temps Roule and bring it on over to McClure's for some barbecue goodness!
McClure's Barbecue is located at 4800 Magazine Street in New Orleans, Louisiana.
Sign up for Burger Weekly email updates!