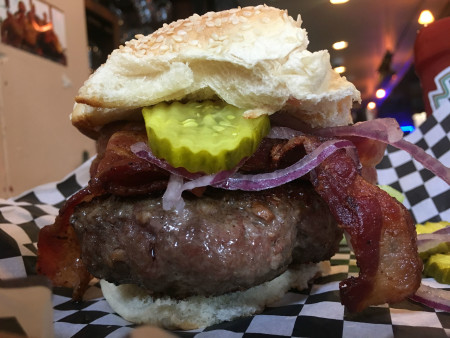 I just got back from a long trip to Israel. When you think of Israel, an Irish pub is probably the last thing that comes to your mind. But if you've heard of Mel McNally and his Irish Pub Company, you know that Irish pubs are everywhere. The one I went to in Israel was characteristic for characteristic the same as the Irish pubs that are scattered all over New York City. One such New York City pub, almost identical to the one I visited in Jerusalem, is McAleer's Pub.
McAleer's on the Upper West Side is a bar I've visited at least a few times a year since I moved to New York almost ten years ago. The bar got a bit of a makeover a few years back, transforming it from a grimy Irish pub to a more or less respectable one. I visited it yesterday at around 2:30pm, and sat at the bar. I was greeted by a very friendly bartender and was delighted to find that during the day, there is a cast of regulars with quirky personalities and a ton of familiarity with one another that mingle at the bar. So basically, it was a meal and a show!
Burger Ordered: The Bacon Bacon Burger
The Taste: The truth is, most random bars in New York City, and likely across the country, serve mediocre food at best. So I didn't expect much out of the burger that I ordered. After all, I had ordered food at McAleer's dozens of times over the years and can't remember a single remarkable experience (or on the other side of the coin, an exceptionally bad experience). I ended up very surprised with my meal.
The Bacon Bacon Burger is a 50/50 combination of the standard house blend, an 80/20 short rib, brisket and chuck mix, and bacon. It comes topped with two more strips of crispy bacon, LTO and sweet pickles. I was quite impressed with the burger. The patty had a very nice, salty flavor and a juicy texture. The pickles balanced out the salt with a nice dose of sweet. The only thing missing was a gooey element that cheese would have provided to help with the mouth feel (a term I hate, but frankly it's the only way to describe why cheese is essential to a burger). In lieu of cheese, I spread a bit of ranch dressing on a few bites and found them very enjoyable. Bacon ranch 4ever.
The Verdict: Now that Joe's is no more, McAleer's can safely call itself a solid burger substitute on the Upper West Side. Don't sleep on the penne mac n cheese either. It's dope too.
McAleer's Pub is located at 425 Amsterdam Avenue in Manhattan New York.
Sign up for Burger Weekly email updates!