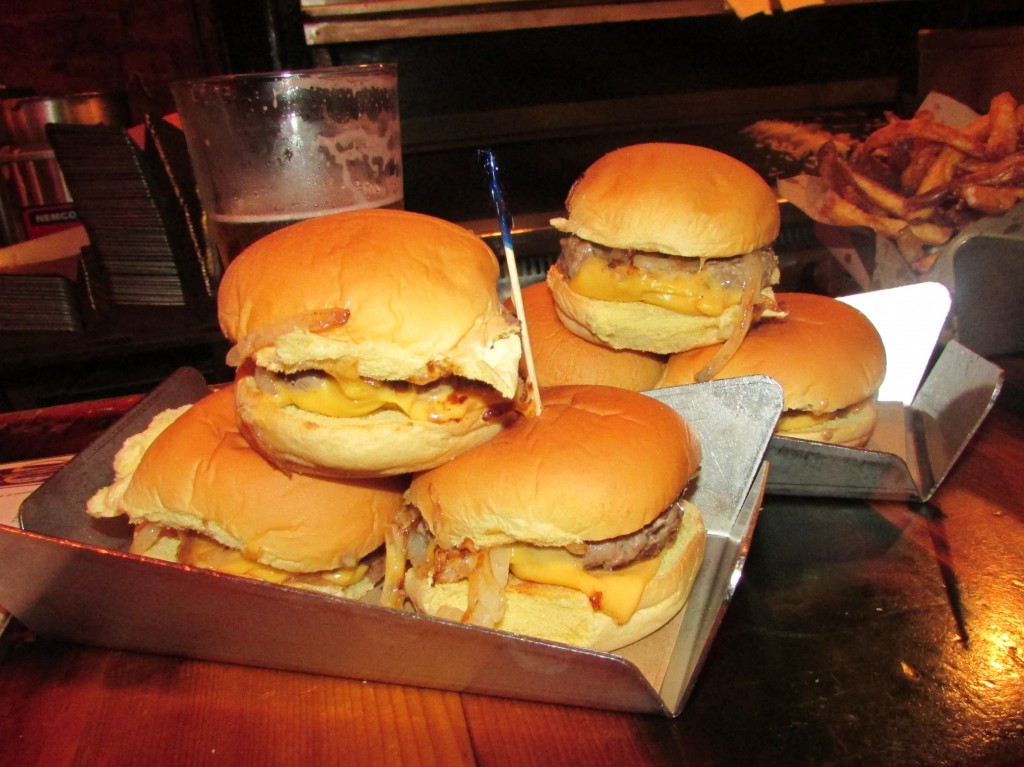 The Experience: New York City hamburger menus are doing it wrong. Just about every restaurant that tells you that they serve sliders are lying, serving mini burgers instead. Don't understand the difference? There is a veritable mob of angry and knowledgable burger-lovers that want to be sure that you know that a slider is:
"a thin, thin slip of beef, cooked on a griddle with onions and pickles piled atop patty. The steam from the onions does as much cooking as the griddle. The buns are placed atop the onions, absorbing the pungent aroma and flavor." – Adam Kuban, A Hamburger Today, Jul 15, 2008
What most New York restaurants are touting as sliders are just miniature hamburgers.
But a hot tip from Rev of Schweid & Sons clued me in to the fact that Mark down on St. Mark's Street is serving up true sliders. Like me, Rev is a native of Michigan, a state littered with true slider shacks. So we met last night so that he could prove to me that real sliders exist in the city.
Burgers Ordered: Two Regular Sliders and a Bacon Slider
The Taste: Rev and I sat next to the grill so that we could watch the wonderful process of real slider construction, and also so that we could have the slider aroma all over our clothes for the rest of the night. I felt like I was back in Michigan, sitting at Hunter House (I really need to do a review of that place), enjoying my trifecta of slider heaven. Even the bacon slider was great, though a deviation from the usual order. Three sliders was recommended and three sliders plus most of an order of fries was just the right amount of food, though the sliders were so tasty it was very tempting to overload with a fourth. I'm glad that I didn't, as I left feeling perfectly satisfied.
The Verdict: Mark serves up real sliders, and I don't know off the top of my head any other burger joint in New York City that does the same. If you know of any, tell me and I'll put them to the test.
Mark is located at 33 St. Mark's Place in Manhattan, New York.