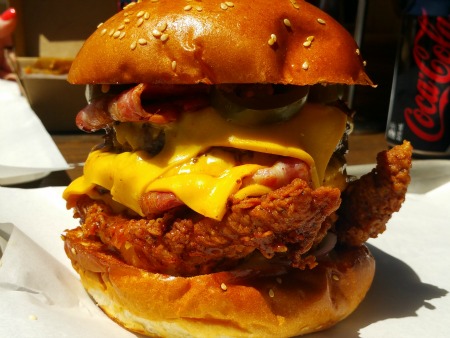 The Experience: The sun was out on a fine Melbourne day, so I headed down toward the beach and had a feed at Mammy's Boy. Mammy's Boy is a traditional fish and chip shop located just behind the iconic Luna Park in St Kilda. It was buzzing on the streets, so I took the first chance I had to grab a table. A nice range of burgers are available, and around seven chip variations leave you procrastinating about making a decision. Mammy's was home to some of the most friendly staff I have come across. "The Milf" seemed to be the go-to burger of choice, so I ordered and upgraded that baby.
Burger Ordered: The Milf w/ an extra beef patty, fried chicken and extra bacon.
The Taste: I didn't have to wait too long for this beauty to appear. It was one large burger with a solid and structurally sound bun nursing the juicy beef and chicken nicely to the end. The beef had that traditional flavour, and when blended with the melted cheese it was a classic combo that couldn't be beaten. The chicken was huge and the coating was spot on; you don't get a piece like this at many places. And Mammy's sauce, not sure what it was but damn it was good. The combo of taco sauce and jalapeños rounded the flavours out and gave it a nice zing.
The Verdict: This is not your usual fish and chip shop. Whether you sit in or take away the quality is bang on. It's in a prime location and just a short walk from the beach, so they are definitely one to go back to and enjoy over and over again.
Mammy's Boy is located at 5 Shakespeare Grove in St. Kilda, Victoria, Australia.
Check out more Australian burger adventures at Damoforce.
Sign up for Burger Weekly email updates!