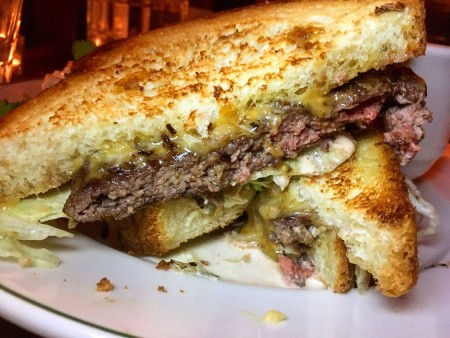 My experience at Maison Pickle truly tested an age old question: if the food is great, does any other aspect of the dining experience really matter? Let's talk about the cavalcade of terrible events that befell me at this Upper West Side restaurant to find out if their fantastic patty melt was enough to make me forget about everything else.
Maison Pickle opened up very recently. It is the sister restaurant of Jacob's Pickles, though it has very little in common with the southern restaurant. Maison Pickle calls itself an American restaurant centered around classic American staples, but there's a lot of French on the menu for a joint that claims to be so patriotic. However, the centerpiece of the menu is a series of undeniably American French dip sandwiches, but I opted for the patty melt, which did nonetheless come with au jus for dipping.
Burger Ordered: Patty Melt
The Taste: This sucker is served on buttermilk bread and is topped with American cheese, lettuce, Maison sauce, and pickled peppers. The word robust kept popping into my head with every bite of this burger. The cheese was so flavorful. The bread was driving me insane, and along with the veggies served up a terrific crunch. The patty was so juicy and saporous. Dipping in the au jus was fun, but the patty melt tasted great even without it.
But then I bit a hole in my tongue while eating the thing and my whole world went to hell. I was in pain, bleeding, and began noticing everything bothersome about my environment. The room was too warm. The couple eating on either side of me were terrible in different ways (two old women to my left were horribly rude to their waiter, while the couple to my right was obnoxious, asking the waiter if they could "create their own menu," uch). The wait staff seemed overwhelmed, some of them on loan from Jacob's Pickles and claiming to be unfamiliar with the restaurant. But was the food enough to overcome these issues?
The Verdict: Injured tongue aside, I'd say this place is worth stopping through to get a patty melt. It's wonderful, as far as patty melts go. But try to get a seat at the bar to avoid the traps I feel victim to.
Maison Pickle is located at 2315 Broadway in Manhattan, New York.
Sign up for Burger Weekly email updates!