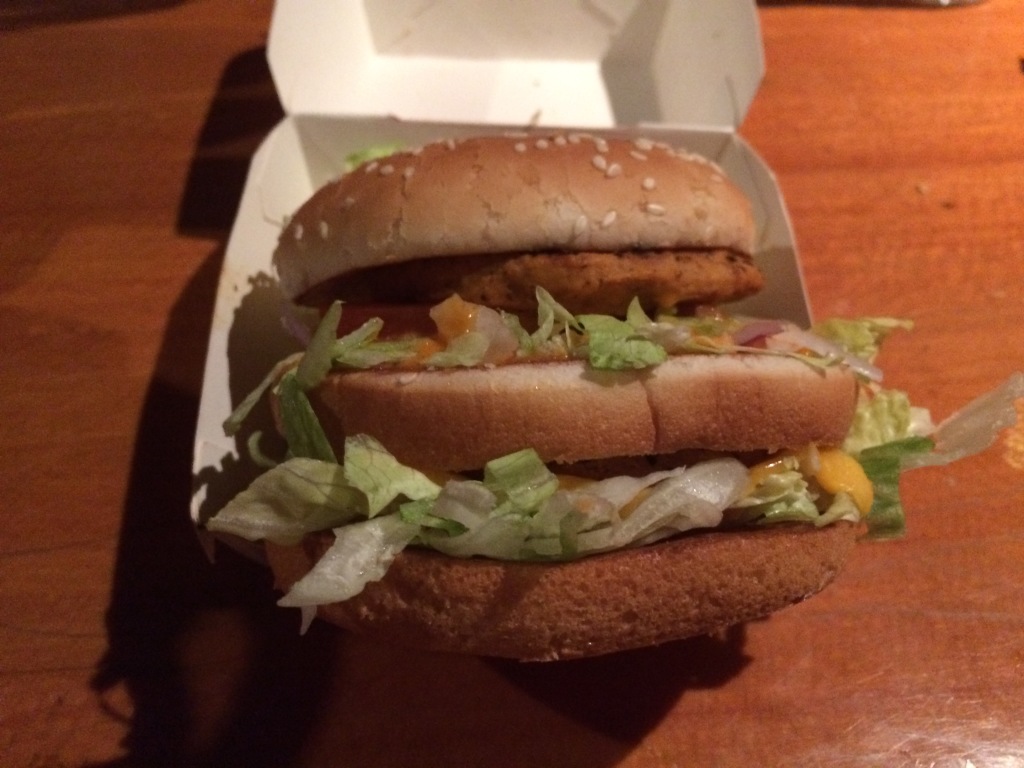 The Experience: People often ask me what my guidelines are for reviewing a burger on Burger Weekly, and more specifically if I'd review a burger from a fast food restaurant. I'm a rather equal opportunity reviewer, and I'm happy to review burgers from regional chains like Fatburger, In-n-Out Burger, and BurgerFi. I even have an ongoing series dedicated to the varied burgers around the country provided by Smashburger. But when it comes to chains that have well over 1,000 locations like Five Guys or the global giants like Burger King and Wendy's, I'm much less interested in investigating their burgers. So it should come as little surprise that I've never had the desire to review a hamburger from McDonald's.
However, when I told my burger buddy Rev Ciancio of Schweid and Sons that I was about to embark on a trip to India, he geeked out and said that it was my duty as the founder of Burger Weekly to eat the Chicken Maharaja Mac and report back to the Western World about it. I didn't understand; this was a chicken sandwich, not a true hamburger. In India, beef is harder to come by because of Hindu dietary restrictions. Rev insisted that the Maharaja Mac has something of a reputation, and he wanted to know from my mouth if it was the real deal. Well…
Burger Ordered: The Maharaja Mac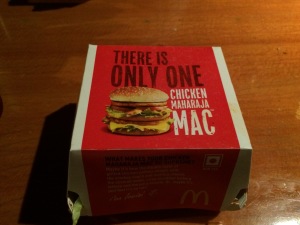 The Taste: On the one hand, McDonald's on Colaba Causeway in Mumbai is a hell of a lot nicer than most that you'll find in the States. It's clean and efficient, the cashiers are friendly, and yet it retains the most endearing thing about fast food restaurants: it's very cheap. They also McDeliver. The Maharaja Mac has a distinctly Indian flavor, and though the chicken patties look about as much like chicken as a real McDonald's meal looks like the burger in the advertisements, it wasn't displeasing to eat. That said, I don't know what the excitement is about. Sure, after eating Indian food for ten days I was excited to eat something that tasted a bit more like home, but there was absolutely nothing in the Maharaja Mac that should get locals or foreigners worked up.
The Verdict: McDonald's in India is a little bit better than McDonald's in America. That said, come back to Burger Weekly next week to get a glimpse of what a beef burger in Mumbai tastes like.
McDonald's (मैकडॉनल्ड्स) is located at Metro House, 1st Floor (2nd floor for those from anywhere but India), Shaheed Bhagat Singh Road, Colaba Causeway, Mumbai, India.