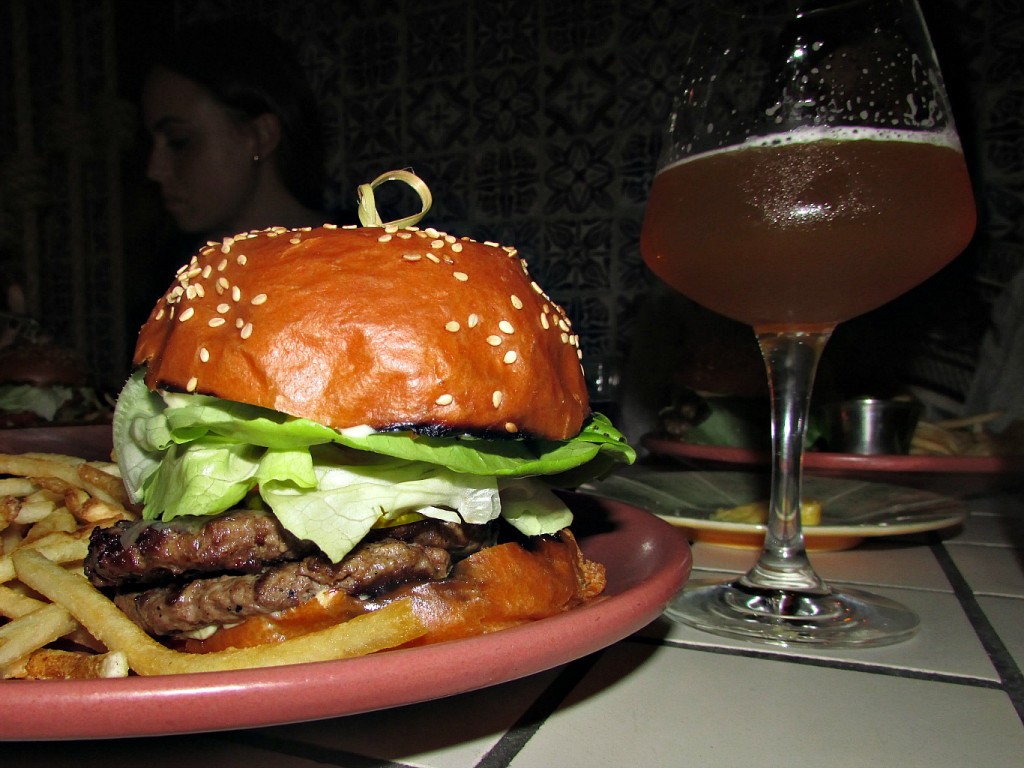 The Experience: I have officially begun the 10-week countdown to my 300th burger in New York City, and each Burger Adventure leading up to it is meant be a celebration with someone that has been a part of Burger Weekly's evolution, ideally at a burger joint worthy of distinction. This week I was joined at Lupulo by the Burger Babez, my favorite all-female, NYC burger club.
Unlike most of my Burger Adventures, which bring me for the first time to a restaurant because of the burger, I had been to Lupulo on a few occasions before this burger outing. Drawn in by their unique beer selection (lupulo is Portuguese for hops) and Portuguese chicken, Lupulo didn't have a burger on their menu until quite recently. Served at lunch and on their late-night menu, the burger is a double-pattied situation cooked over a wood fire, topped with Casa de Mendevil (Portuguese) cheese, smoked mayo, pickles, lettuce and tomato on a sesame seed bun.
Burger Ordered: O Hamburguer
The Taste: The double patties are hardly a challenge to put down; each is likely four ounces. The cheese is melted both between and beneath the patties, while the rabbit food is on top. My only disappointment in the burger was that, though I'd read that Casa de Mendevil cheese was strong and buttery, and though logically its placement lower in the sandwich should have made it more prevalent, I didn't find myself tasting it that much. That said, the patties were delicious, and were complimented strongly by the airy bun and delightful pickles.
The Verdict: At $21, O Hamburguer is a little steep, but it's in this part of Manhattan you'll find few burgers that are better, and few anywhere that are accompanied by such interesting beer.
Lupulo is located at 835 6th Avenue in Manhattan, New York.
Sign up for Burger Weekly email updates!