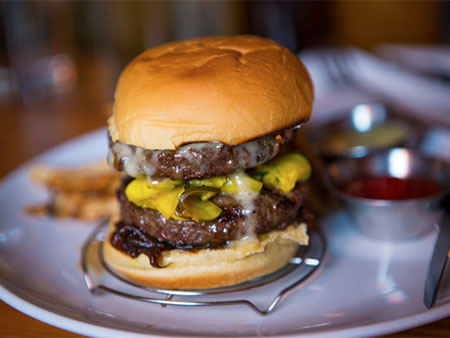 I like to spend my weekends on food adventures. Recently, Mike from Burgerlift and I hit a trio of burger joints in Prospect Park and Fort Greene, pulling from a list provided by Matthew Hyland, the chef and owner at Emily. The day was a huge success, so the next few Wednesdays I'll be going into greater detail about each burger.
Lulu & Po was the last stop on the burger crawl, but it was also the best. I want to talk about it first because I'd already eaten a ton of food by the time I reached this place, and I still loved it. Lulu & Po is a very small space, containing a few tables and no more than 7 seats at the bar. Mike and I arrived right when the restaurant was opening for dinner at 5, and were greeted by the sole (very friendly) waiter and (equally friendly) bartender.
Burger Ordered: Hamburger
The Taste: Calling what they serve a hamburger is really underselling what Lulu & Po provides here. The double patty situation is topped with goat cheese, middled with pickled zucchini, and bottomed with caramelized onions, all on a potato roll. The goat cheese was silky and subtle. The pickles zucchs were a delightful change of pace from the always-classic pickled cucs. You can never go wrong with caramelized onions and a potato roll too. The patties both had a nice char, and were cooked to a pink hue. We were also treated to a burger & beer deal that knocked the price of a Narraganset down a few bucks, just to put the cherry on top of a great meal.
The Verdict: As I mentioned at the top, this was my favorite burger of the day. It's reasonably priced, delicious, and it can be your ace in the hole great-burger-your-friends-didn't-know-about.
Lulu & Po is located at 154 Carlton Avenue in Brooklyn, New York.
Sign up for Burger Weekly email updates!