Austin's Best Burger |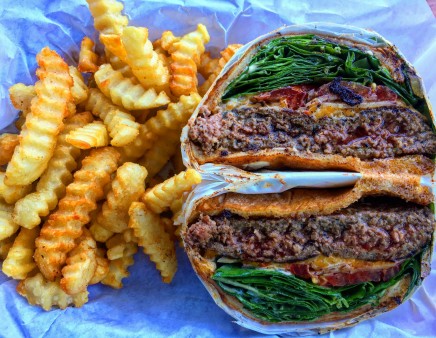 I find it fascinating how certain burger joints in a given city become the go-to, top-spot restaurants for burger lovers. In Austin, the lists tend to be topped by Hopdoddy, Second Bar, Mighty Fine, Swift's Attic, and Cow Bells. But I've never seen Luke's Inside Out on a list of Austin's best burgers and after eating it, I find the zeitgeist wanting. Luke's Inside Out is a trailer outside of Gibson's Bar on South Lamar. I ordered at the trailer and ate on the patio at Gibson's, and from the first bite, everything was perfect.Burger Ordered: The Burger
The Taste: The menu says that the Burger is a half-pound of meat topped with cheddar and love. Love must mean spinach, tomato, and the best burger sauce that I've ever had (probably). In the interest of full disclosure, I'll admit that there's too much rabbit food on this burger. But once you pull the greens and reds from the packaged sandwich (or remember, unlike me, to order your burger without), you'll be in heaven. The meat was succulent and packed with flavor, and I am hesitant to even try to describe the sauce because each bite was so incredible that I almost went blind from all my ecstatic eye-rolling.
The Verdict: This burger is nearly perfect, and the crinkle cut fries are also a surprisingly amazing treat. This one needs to be on everyone's radar. Don't sleep on Luke's.
Luke's Inside Out is located at 1109 South Lamar Blvd in Austin, Texas.
Sign up for Burger Weekly email updates!