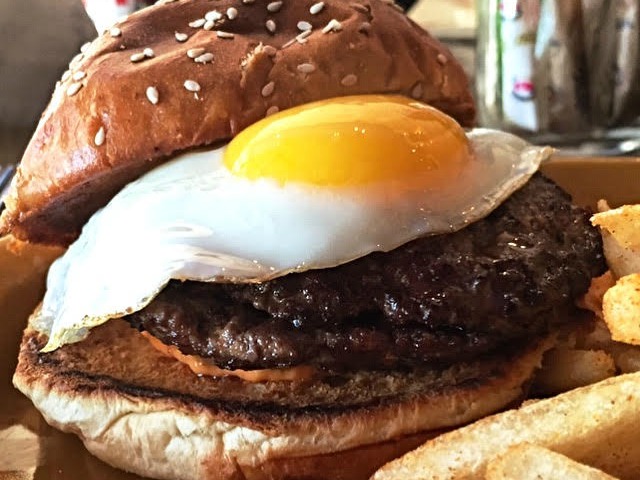 The Experience: The restaurants in downtown Chicago tend to get all of the credit and praise when it comes to great food, which makes sense, but there are great restaurants all over the city. In this case, "Luella's Southern Kitchen" is far north of the city in an area called Ravenswood.   For you New Yorkers, it would be like going from Gramercy Park to the Upper East Side. Luella's Southern Kitchen is worthy of downtown praise.
Burger Ordered: Pimento Cheeseburger
The Taste: In the Midwest, having meat from Slagel Family Farms is a differentiator. They are known to provide the best quality meat.   For us 'Little Meisters', Luella's Southern Kitchen is already starting off on a good start.   The Pimento Cheeseburger is packed with two thin Slagel Family Farms patties topped with an over easy egg, which is sandwiched between two toasted brioche buns. Once I cut into the burger, the runny yolk, burger juices and orange pimento cheese all ran together. The first bite was consistent with the look of the burger, simple but complex. Each bite was as delicious as the one prior and before long, the burger was gone. I have never inhaled a burger so quickly and after my last bite, I wanted more.
The Verdict: The Pimento Cheeseburger is a must try and worth the drive, uber or taxi…just get there! Just a heads up, the burger is on their brunch menu so call ahead.
Luella's Southern Kitchen is located at 4609 North Lincoln Avenue in Chicago Illinois.
Follow @badguyburgers on Instagram for more Chicago burger knowledge.
Sign up for Burger Weekly email updates!