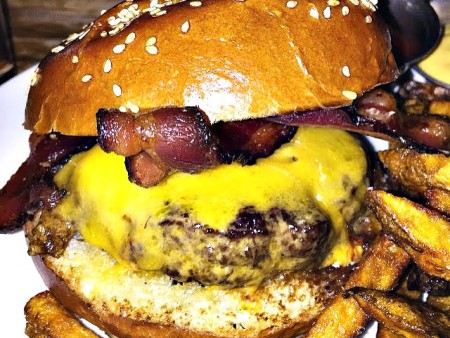 It's not very often that I get to dine at Michelin star rated restaurants, for many reasons. One of them is because a lot of the best restaurants in the world, or at least in Chicago, do not serve burgers. However, Longman & Eagle is the perfect blend of fancy and casual. Their menu has range, they have bone marrow dishes, and they also have basic cheeseburgers. I had to try out this Logan Square gem to see if they give as much thought about their most expensive dish to their least expensive.
When I walked in last Tuesday night, Longman & Eagle was already packed; it was 5:45pm. I wasn't too surprised, they have a great bar with phenomenal cocktails and the restaurant is relatively small. The crowd was mixed, it ranged from businessmen to hipsters. The nice part about it the diversity was that everyone had a smile on their face because I think we were all thinking the same thing, "This food is going to be good." 
I was seated pretty quickly, and I wasted no time in ordering because I figured someone still waiting was going to spend more than me so I should get to the goods.
Burger Ordered: Slagel Family Farm Burger
The Taste:  The first word that came to mind about this burger was, "simple." Honestly, one would think you could cook this at home. However, they would be wrong. The burger is delicious, and the simplicity of the Widmer's cheese, beef, and bacon created a bite that was filled with flavors. The beef was juicy, packed with spice, and the bacon delivered a welcomed crunch. 
Slagel Family Farms is a local, Illinois cattle range that has become the place for restaurants to buy their meat. If I have been recommended a burger, the first thing I check is where the meat is coming from. If it's from Slagel, I already know the juice is going to be the best part of the burger. Longman & Eagle was no different.
I need to tip my cap to Longman & Eagle on creating a bun that could absorb all of the juices from the patty. I have had plenty of burgers in my day, and not many restaurants put enough thought into their bun. I can honestly say, Longman & Eagle has thought of everything.
The Verdict: I walked out of the restaurant happy, even giddy. If I had to, I would say the downfall to the burger was the simplicity, but it was also a strength. Either way, if you can check it out then you should. You will not be disappointed.
Longman & Eagle is located at 2657 North Kedzie Avenue in Chicago, Illinois.
Sign up for Burger Weekly email updates!