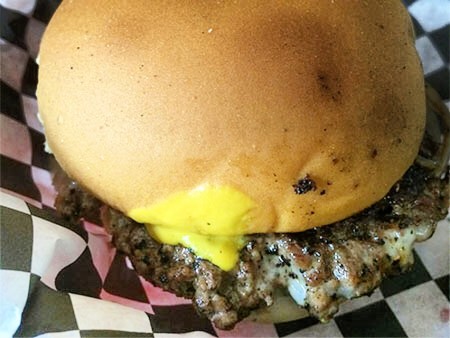 "Cabbagetown" is a cool, non-touristy area in East Atlanta. This historic neighborhood is filled with art and houses with amazing architecture. It's here where you'll find Little's; a cozy mom and pop grocery food store that's been open since 1929.
Little's sells local produce and products, dry goods, beverages and snacks. But the real secret to this neighborhood gem is their diner-style burgers. Little's Burgers are made of thin beef patties then cooked to order on a gas grill.
Burger Ordered: The Big Burger
The Taste: A few variations are offered. The Little is 2 ounces, the Big is 4 ounces, and there are specialty combos. You can also order extras such as chili, egg, or bacon. Basic topping are free. Single patties start at $1.75; doubles at $3.99. All basic burgers come "Little's Style," a patty with grilled onions, bread and butter pickles and a squirt of mustard. It's then topped on a Martin's potato bun. For an extra 20 cents, top your burger off with classic American Cheese.
Once your order is ready, sit at the vintage wood counter with red bar stools, which lay on checkered linoleum floors. It really feels like you're going back in time, especially the prices. The burgers are super juicy; perfectly seasoned inside with the perfect crunch on the outside.
Compliment your burger (or two) with a Ginger Beer or a frothy from their varied beer selection. There are some tasty store made side dishes such as fries, onion rings and sweet and sour slaw; I opted for the lightly fried pickles.
Little's Food Store is located at 198 Carroll Street Southeast in Atlanta, Georgia.
Sign up for Burger Weekly email updates!