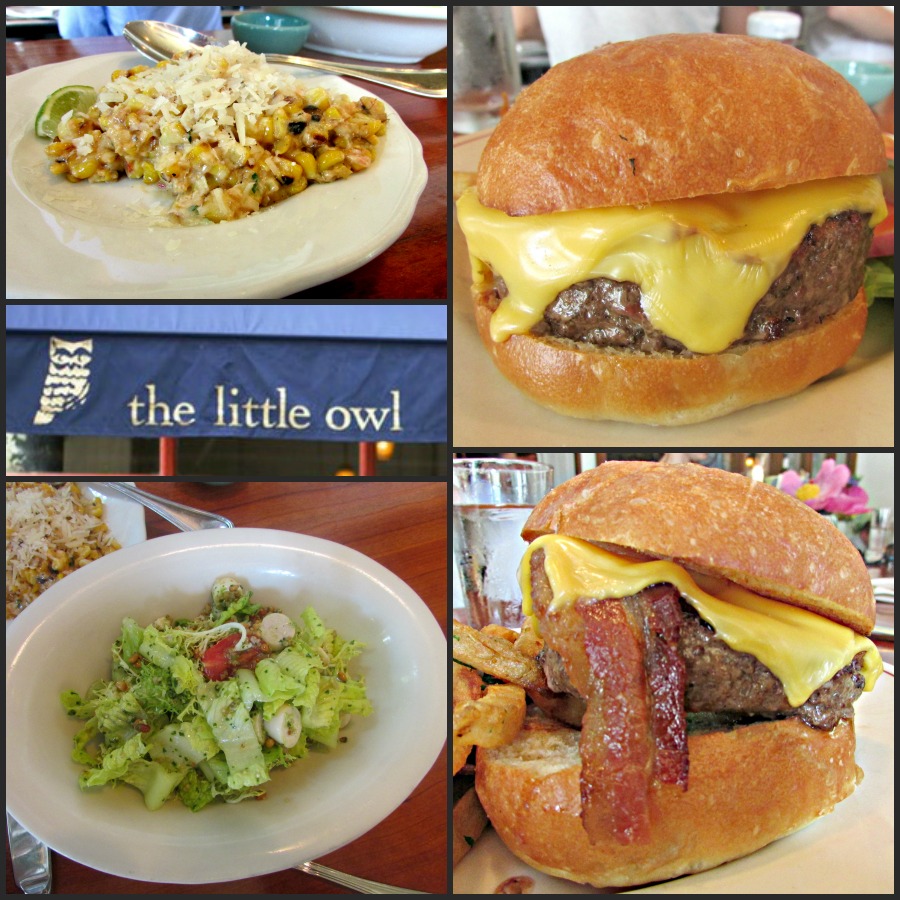 The Experience: Trying to make good on my pledge to eat one burger a month off of the list that inspired the creation of Burger Weekly, my eyes turned towards the Little Owl. I had walked by this place so many times, marveling at its adorableness and its ability to be filled to capacity almost all the time. So on a particularly sunny day, the First Lady of Burger Weekly and I exploited a Summer Friday and saddled up to the bar at Little Owl for lunch.
Burger Ordered: The Bacon Cheeseburger
The Taste:The Bacon Cheeseburger at Little Owl is a big lunch meal, especially considering that it isn't offered at dinner at all. I was very glad that I wouldn't be returning to work after this feast, as I would have surely fallen into a deep food coma. That said, with the knowledge that I could walk around the West Village post-gorge, I happily ate my burger.
At first sight, I was worried that there was no bacon on my patty, only to be very embarrassed when the waitress pointed out that it was in hiding underneath the healthy helping of American cheese. My dining companion isn't a fan of American cheese and found it to be too plentiful for her. I love this classic hamburger staple, and thought that it was in perfect proportion to the other burger elements. The bacon was salty and tasty as well, and the bun was soft and sweet. I did find the patty to be seasoned with a bit too much black pepper, but it was easy to look beyond this nitpick.
The Verdict: While I can see why this competent burger has a place on many New Yorkers' top burger lists, I feel that many of the newer burger joints in town have surpassed it, especially at this price point ($16). You'd do just as well if not better better to enjoy the romaine and palm hearts, Mexican corn, and French fries with chili aioli before a gravy meatball "slider."
Little Owl is located at 90 Bedford Street in Manhattan, New York.