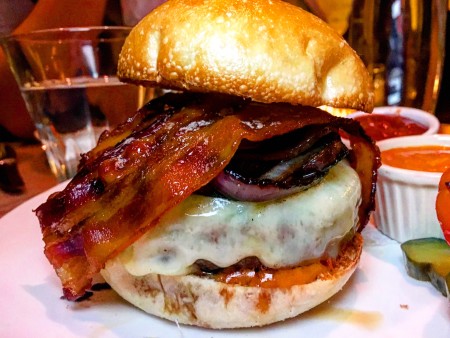 There is a lot of hype surrounding Minetta Tavern's burgers (yes, they have two, and you should try both), and that hype is well deserved. So when Xavier Monge, the former sous chef at Minetta, brought his burger skills (among other skills) to Little Frog when it opened late last year, you had to know I'd catch wind of it. It so happened that I just moved apartments to a place very near Little Frog, so I made this my inaugural burger as an Upper East Sider.Burger Ordered: The Frogger Burger
The Taste: The Frogger Burger  is topped with cabot cheddar, charred red onion, maple bacon, and a signature Choron sauce on a white bun. It comes with fries and another dipping sauce. I did not care for the orange fry sauce, and that is the only thing on my plate that I didn't like. The burger was succulent and delightful. The maple bacon and onions added such a nice sweetness to every bite. The cheddar cheese and béarnaise were just the right amount of savory. If it was Monge's mission to bring the Upper East Side its best burger, he's making a serviceable case with the Frogger Burger.
The Verdict: At $19, this burger and fries feels like something of a steal at a restaurant of this calibre. I'll definitely be back for the burger again, and to try the whole Normandy duck when I can figure out how to justify the dish to myself.
Little Frog is located at 322 E 86th Street in Manhattan, New York.
Sign up for Burger Weekly email updates!