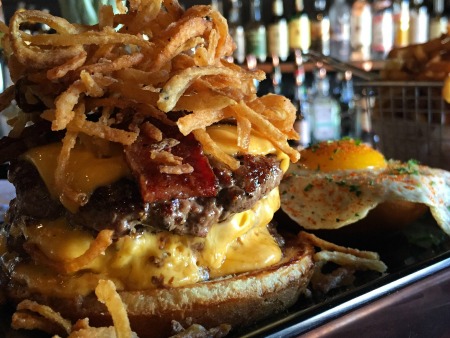 Little Bad Wolf has been all over Instagram for Chicago restaurants, and it is with good reason. Recently, they have been getting noticed for their baos, and though those look delicious, we all know why I went there. Before making the 45-minute trek north, I checked their menu and saw that they had 3 burgers, Little Burgers, the Bad Burger and the Wolf Burger.
I sat down at the bar as I usually do, because it's awesome talking to the bartenders to get the real vibe of the restaurant. This time, I was talking to Kevin and he showed me around the menu and basically steered me to almost everything I ordered. I was hungry, and Kevin said he recommended the Bad Burger, which had two patties. The Wolf Burger had three. Sorry Kevin, but the Wolf Burger was the right choice for me. I felt a little bad not completely trusting him but I knew if I left there hungry, I was not going to have a great experience. I did order the Pan Roasted Brussel Sprouts and the Manhattan he recommended, so all was good. After about 10 minutes of talking to Kevin and seeing all the people pouring through the door, my BIG burger came out.
The Burger: Wolf Burger
The Taste: The Wolf Burger is made of three Davis Creek patties, bacon, American cheese, onion straws, house made pickles, mayo and a fried egg. I mention the Davis Creek meat because knowing where the meat comes from is becoming very popular in Chicago and it honestly makes a difference to me. Unlike the "Best Burger in America" at Au Cheval, which uses Sysco frozen patties, these newer restaurants carefully choose their ingredients and I think we should appreciate that as patrons. 
As you can tell, there are a lot of flavors that could either make or break this burger. and the first bite was fantastic. It was a little hard to get everything in my mouth because of all the meat, but that's on me. The patties were tender, the bacon was out of this world and the onion straws provided the mix of spice and salt that the burger needed. The fried egg made the burger look good but didn't add too much flavor, and I personally thought the mayo was not needed. 
I need to give a special shout out to the restaurant because their bacon is the best I have ever had. It was so good that not only did I eat every bit on my burger but I picked all the bacon out of the Brussels Sprout dish. In Chicago, there is a huge push to have thick cut bacon on burgers, which I do not dislike, but this bacon was a little thicker than home cooked bacon and thinner than thick cut bacon. It was perfect.
The Verdict: The Little Bad Wolf is a gem, despite being up north in Andersonville. I would imagine people will come from the city to check it out, and I could see a Food Network show stopping by. Simply put, the burger was worth it and I look forward to trying the baos on my second visit.
Little Bad Wolf is located at 1541 West Bryn Mawr Avenue in Chicago, Illinois.
Sign up for Burger Weekly email updates!