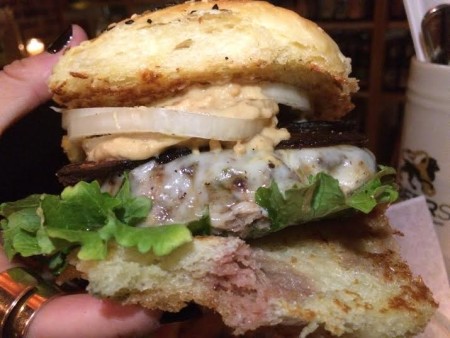 I have been getting a lot of emails lately, promoting events during which hamburgers will be paired with wine, whiskey, and other spirits. While I enjoy pairing a burger with wine, and think that burgers and whiskey go together quite well, it is an undeniable truth that the ultimate beverage to imbibe whilst eating a burger is beer. As such, when Lions Beer Store opened a couple months ago in the East Village with over 350 beers available and a curious burger on the menu, New York City became even more of a hamburger mecca.
The restaurant/bar is owned by the delightful Pitsionas family. Alex, the prodigal son of the operation, moved here from Thessaloniki Greece (where the original Lions Beer Store slings their wares) just last week to help his father Sikas run the bar. Sikas runs the show, Alex focuses on the beer, and Chef Joshua Bedford directs the kitchen. Bedford, a Texas native, serves up a hearty burger with a bun that really caught my attention.
Burger Ordered: The Butcher Burger
The Taste: Baked in-house, the bun on the Butcher Burger is topped with sesame and curry. I can say with some confidence that it was unlike any burger bun I've tasted before. I appreciated that it was wholly unique without straying too far away from a traditional burger flavor profile. The Pat LaFrieda patty was hefty at eight ounces, and was thankfully its subtle seasoning contrasted well with the noteworthy bun. The house-smoked bacon and Pepper Jack cheese, were also welcome additions to the big cheeseburger.
The Verdict: If you're a fan of burgers and beer, you owe it to yourself to scope out this new brew joint.
Sign up for Burger Weekly email updates!