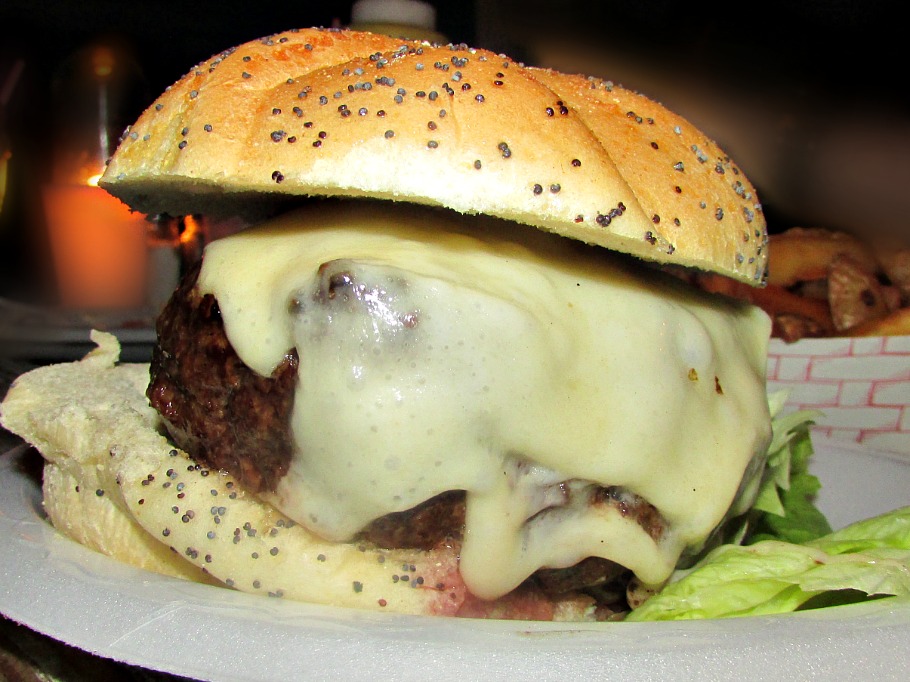 The Experience: A reputation is a lot to live up to. Almost ten years ago, the burger at Le Tub was dubbed the best burger in the world by GQ Magazine. Then Gayle King talked on the Oprah Winfrey Show about how much she liked the burger. Even all this time later, Le Tub's reputation means that during the holidays, the restaurant is a madhouse. As the final burger on my Miami burger tour, I was determined to eat this monster regardless of how difficult it might be.
It ended up being incredibly difficult. The wait staff was incompetent at their best, and combative and rude at their worst. When we sat down we were told that it would take 45 minutes for the burger to come out, so we put our orders in immediately and also ordered a cold seafood salad to come out sooner and satisfy our hunger in the meantime. Over 45 minutes later, no food had been served to us at all. When we inquired about the salad and the burgers, we were told that the burgers were taking 90 minutes to be served. When we reminded our waiter that we were told 45 when we arrived, he all but called us liars. While we waited another 30 minutes for our burgers to be served, it was seeming less and less likely that anything was going to live up to the nearly decade-old hype.
Burger Ordered: Sirloin Burger
The Taste: If you're thinking about sitting through the bad service and long wait time to get a burger at Le Tub, here's my advice: Buy a pound of ground sirloin from your local grocery store, take it home, lightly season it with salt and pepper, do your best to grill 13 ounces of it to your satisfaction, slap it on a cheap poppy seed bun, and enjoy. Your best effort will likely be just as good as what Le Tub produces. That's not to say it's outright bad, as I have confidence that readers of this blog are skilled in the art of grilling. But there's absolutely nothing happening in the kitchen at Le Tub that makes these burgers any better than a home-cooked meal. I'd also recommend you make yourself a smaller patty, as the ones at Le Tub are ridiculous in size.
The Verdict: Whatever shine this place once had has faded. The service is awful and the food isn't worth the wait or the price.
Le Tub is located at 1100 North Ocean Drive in Hollywood, Florida.