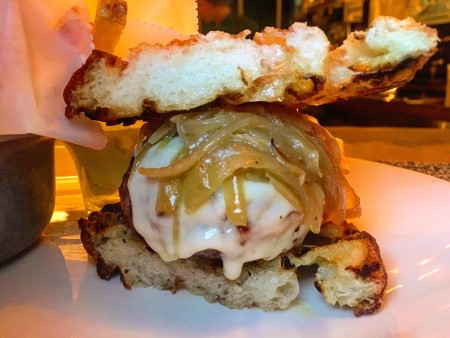 Though it's making an appearance on Burger Weekly, this place should not be confused with Left Bank Burger Bar in New Jersey. So what's great about New York's Left Bank? It's cozy, its location is fantastic, there are cool people who drink at the bar there that will talk to you about what they notice is on your iPhone screen. You know what else is cool there? The burger. This West Village bistro served up a burger that was something of a godsend to me, as I'd been feeling kind of burger'd out by the same old same old. Burger Ordered: The Burger
The Taste: As you can see in the photo above, the burger comes topped with fontina cheese and caramelized onions on some bread. Now, does that make this a patty melt? No it does not. But why not? It has cheese, caramelized onions, and it's on bread. Because of the way it's constructed. Much like the slider, the patty melt has a specific construction. The patty on a patty melt is finished off by being grilled between the two pieces of bread. In this burger, the patty finishes grilling with the cheese on top, and then is removed from the grill and placed on the bread with the onions. So while this burger isn't a patty melt, it is still delicious and it comes with incredible fries.
The Verdict: For a nice change of pace, a great atmosphere and good conversation, plop down at the bar at Left Bank and order the burger.
Left Bank is located at 117 Perry Street in Manhattan, New York.
Sign up for Burger Weekly email updates!