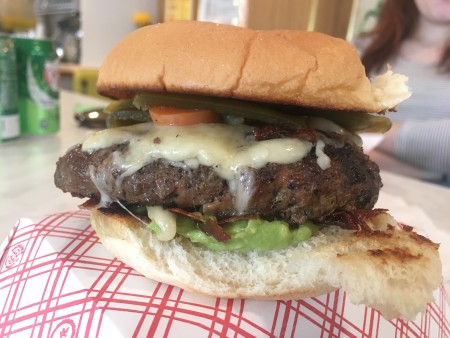 Years ago, I was told that the burger at La Esquina in SoHo was incredible. But something always kept me away. I'm not sure if it was how difficult it was to get into all those years ago, or the fact that I've never conveniently found myself near there when I was hungry. But in the last few years, La Esquina has been expanding into Brooklyn and farther uptown. Last week, I found myself at the Upper East Side taqueria. While drinking a ginger ale and waiting for a taco, I saw a guy lose his mind over the burger there. So a couple days ago I went and got that burger for myself. Burger Ordered: Hamburguesa
The Taste: This sirloin blend patty is topped with chihuahua cheese and pickled jalapenos. Under the patty you'll find guac. I also found a random carrot on my burger, which was upsetting, because carrots are a non-food that should be classified as poison. But once I cast the carrot aside. this became one of the best burgers I've had in a long time. The sear on the patty was bananas. Every little bit of extra crispy meat made me swoon. The guac was fun without being too messy, and the jalapenos had a nice bite without being too spicy.
The Verdict: To be honest, I'd been a little down on burgers lately, and this one lit a new burger fire under my burger ass. Metaphorically, of course. Highly recommended burger.
La Esquina is located at 1402 Second Avenue in Manhattan, New York.
Sign up for Burger Weekly email updates!