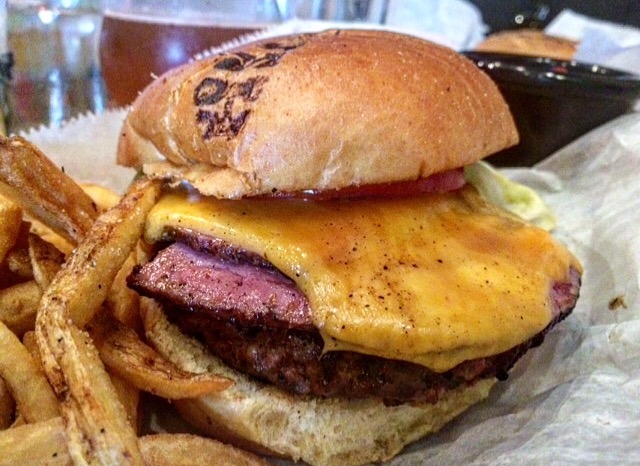 The Experience: During my last visit to Miami, there were an overwhelming amount of restaurants to choose from for my one Burger Adventure of the weekend. I put together a list of potential places based on internet research and sent it to my dining partners. We weighed different factors, such as a burger's notoriety, or distance from our hotel. But in the end, it was a strong recommendation from a local that directed us to Kush.
Matt "Kush" Kuschner (sorry, this isn't Colorado) opened up Kush as a place where you can drink and learn about great beer, while eating burgers with locally sourced components. It is an extension of Lokal, Kushner's first foray as owner in the Miami food scene, and a place well known for its burger. Kush's menu boasted a burger voted Miami's best by the Miami New Times, so I knew I had to have it. The rest of my party ordered different, though also highly regarded burgers from the menu.
Burgers Ordered: The Classic, the Johnny Utah, and the Lokal.
The Taste: The Johnny Utah, topped with pastrami, cheese, Lokal sauce, and LTO, had me immediately feeling as though I'd made the right choice. The sauce added a wonderful moisture to the burger, and the pastrami, cheese, and onion bounced off my tongue with potent flavor. The Lokal burger, with its grass-fed beef and arugula, was a little bit lighter. It was well-received, but a bit dryer than the Johnny Utah. The Classic Burger was a winner as well, but the real highlight was the beer menu. It was extensive, interesting, and filled with libations the group had never tried before.
The Verdict: Kush is great, from its small, natural ambiance, to its knowledgable wait staff, to its delicious food. It fits perfectly in Wynwood and I would love to see more places like it in New York.
Kush is located at 2003 North Miami Avenue in Miami, Florida.
Sign up for Burger Weekly email updates!