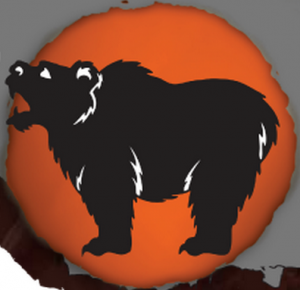 Burger Weekly Invades Chicago
Burgers Ordered: Mike – The Plague Bringer
The Experience: If Facebook is good for anything, it's keeping in touch with childhood friends.  Burgermeister Brad and his old buddy Mike (not to be confused with Michael), reconnected after years since their last encounter in person, bonding over a mutual love of hamburgers. Mike, now a film director and producer in Chicago, was eager to answer the Burgermeister call and educate all of the Little Meisters on the Windy City's hamburger offerings.
Mike's first stop was the ever popular Kuma's Corner.  Kuma's made Zagat's list of Chicago's 10 must-try burgers.  When Mike arrived the place was totally packed.  There was a 45-minute wait time, which Mike learned is somewhat standard.  The walls were adorned with drawings of scantily clad (at best) women, and tattoos filled the restaurant.  There was a very heavy metal/biker feel to the place.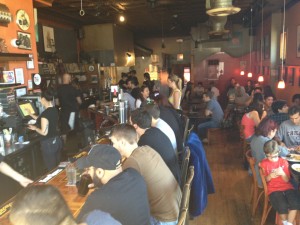 The Taste: Zagat recommended the Kuma Burger, but Mike never takes the beaten path and went with the Plague Bringer off of Kuma's menu of over twenty heavy metal-inspired choices.  While the Kuma Burger is a bacon cheeseburger topped with a fried egg, the Plague Bringer is topped with roasted garlic mayo, tortilla strips, house made hot sauce, fresh garlic, pepper jack cheese, and sliced jalapenos.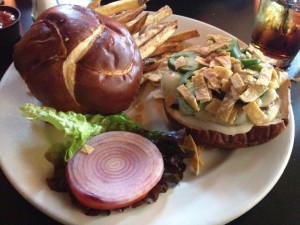 Mike said that the burger was very tasty, and incredibly spicy.  The jalapeno peppers were freshly sliced, not canned or pickled, giving them some serious potency.  He said the meat had an almost gourmet taste to it.  On the down side, Mike felt totally laid out by the burger.  It was incredibly heavy, messy, and turned him into a modern day Rip Van Winkle when he got home.
The Verdict: If you can handle the before-and-after (a long wait and a catatonic fullness) then Kuma's Corner is for you. The burgers are hefty and delicious, good for any hardcore burger connoisseur.
Kuma's Corner is located at 2900 W. Belmont Avenue on the corner of N. Francisco Avenue in Chicago, Illinois.