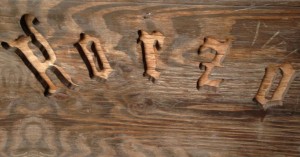 Fry Everything!
Burgers Ordered: Brad & Allison – The Original Korzo Burger
The Experience: With Matt occupied at the Brooklyn Waterfront Beer Festival, Brad needed a ringer to accompany him on this Burger Adventure.  Allison suggested that she take Matt's place, and recommended Korzo as the spot for dining.  Brad trusted Allison's burger taste, as she introduced him to Black Market (review forthcoming), which was a winner in its own right.
Korzo is the authentic burger shack that Burger Joint wishes it could be.  With only four small tables, a bar, and a long table that could seat twenty if need be, Korzo lends itself to social burgerizing.  The joint is adorned with casual-as-it-gets wooden furniture and Eastern European doodads.  The best doodad of all was definitely the beer.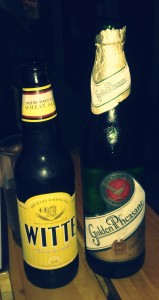 Allison's beer had bottle envy.
The Taste: The Korzo Burger is a sizable patty, wrapped in Langos (Hungarian flat bread) and deep fried.  We would call this a pocket burger, but the pocket would have to be sown into a giant's pants, as the burger is quite sizable. Inside this pocket is bacon, allgauer emmentaller cheese and mustard. It's accompanied by purple slaw, apples & buttermilk aioli.  Brad ordered red bliss fries with his meal. Allison was disappointed that Brad didn't order the halusky fries (essentially a soft, fried noodle) to make his meal really authentic, but such is life.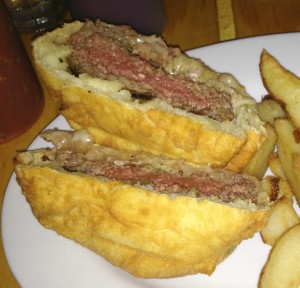 HOT POCKET!
Both Brad an Allison agreed that everything on the dish was delicious.  Korzo has no ketchup, but rather a homemade beet ketchup that is more the consistency of jelly than anything else.  It was surprisingly tasty. Allison likened the "bun" to a funnel cake, giving an almost sweet dimension to this savory meal. Brad could not be satisfied by just one burger, and absolutely scavenged Allison's scraps. Pieces of bacon, meat and fried bread that went uneaten by Allison were turned into a makeshift zombie burger for Brad's "dessert."
The Verdict: On this Saturday night, pre-Father's Day, it was not difficult to secure a table.  Having walked by Korzo on many an occasion on a weekend night, Allison said that we got incredibly lucky as it's usually completely packed. Our waiter, an awesome dude from the Czech Republic, confirmed Allison's statement and talked to us a bit about the history of the restaurant and his family life. We highly recommend you head to Korzo for the food and awesome conversation.
Korzo is located at 178 East 7th Street in Manhattan, New York.