Pepsi Brings Burgers to Chelsea |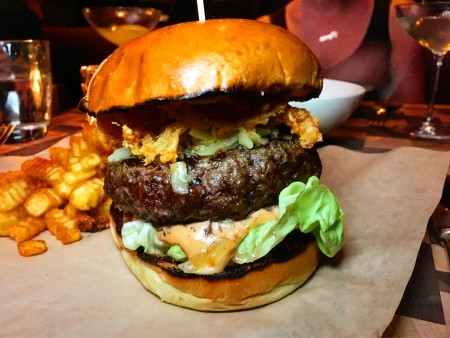 PepsiCo has descended from its perch up in Westchester and opened a restaurant in Chelsea. However, were you to waltz into Kola House for dinner, you'd never know that Pepsi had anything to do with the place. There's no Pepsi branding anywhere, and the large space is more swank-meets-steampunk than it is taste-meets-difference. The connective tissue lies in the kola nut, an ingredient found in many of Kola House's menu items, and also the origin of colas, Pepsi and otherwise. Burger Ordered: The Kola Label Burger
The Taste: Topped with avocado, pepper Jack cheese, a chipotle sauce and an onion ring, this burger is a sight to behold. You'd best come to Kola House with an appetite, because this burger is big. The bun is hearty, the patty is thick and the toppings are plentiful. The onion ring and lettuce give it a nice crunch. The fact that tomato is absent but a burger sauce is present shows me that a real burger lover conceived of this burger build. Though I'm told the sauce isn't typically spicy, my burger had quite the kick. I love a good tickle, but be sure to ask your waiter about it if you're sensitive to a little heat.
I'd be remiss (have you ever noticed that nobody is ever remiss) if I didn't mention a few other Kola House standouts. The crinkle cut fries were spectacular, proving twice in a week that there's a crinkle cut-aissance happening. The soppresata meatballs were excellent, bathed in a rich sauce that I would buy a jar of in a heartbeat. And the cocktails were also delightful. The Electric Brew, a beer-based drink, paired perfectly with the heavy burger thanks to its light flavor and refreshing zing.
The Verdict: The burger at Kola House is a real winner, and a great place for a burger-date to boot.
Kola House is located at 408 West 15th Street in Manhattan, New York.
Sign up for Burger Weekly email updates!