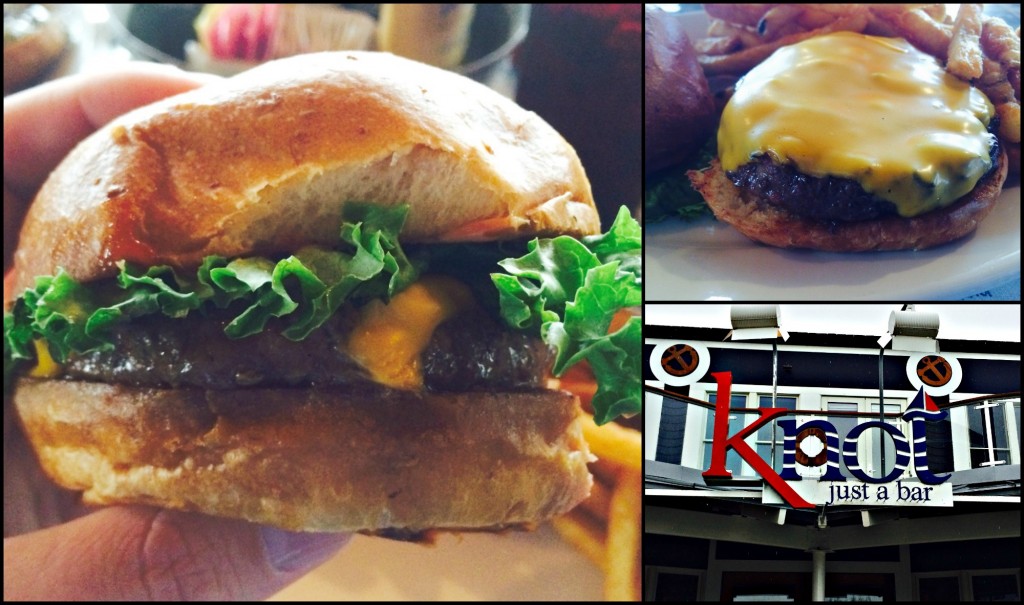 The Experience: Knot Just a Bar is obviously a nautically themed bar nestled in the aptly named resort community of Bay Harbor. During the summer months it can become difficult to navigate through the seas of people that frequent the establishment, but on a rainy Friday afternoon in early May this Burgermeister was one of just three tables in the joint, so he assumed quick service while on a lunch break from the 9-5 grind.
Unfortunately, the Waiter Culture left a lot to be desired, as the waiter deemed training the new guy more important than even taking our drink orders, and my parents and I waited nearly 15 minutes to have someone come to our table. This created an uphill climb for the burger, as three of us already had a sour taste in our mouths.
Burger Ordered: Knot Burger
The Taste: They're lucky. The Knot Burger is a standard offering, an eight ounce beef patty cooked to your liking, and they really did cook it to my liking. I asked for medium rare and that's what I got, and it was very tasty. It is served on an artisan roll that did its job holding everything together but was otherwise unmemorable. Toppings are the typical fare or lettuce, tomato, pickle, and onion, with an option of cheddar, Swiss, American, or bleu cheese. Various condiments are presented at each table, ensuring that every Burgermeister can get their burger pretty much how they want it. The fries that came along with the burger were pretty good, but I always find it annoying when the fries have to be ordered separately. A burger without fries seems like a bit of a silly idea.
The Verdict: While the wait was longer than I would have liked, once the burger arrived it was quite good. Perhaps later in the season Knot Just a Bar will have their staff fully trained and provide better service, but at least they've got burgers down.
Knot Just a Bar is located at 820 Front Street in Bay Harbor, Michigan.