Beef so fine it'll blow your mind.
Burgers Ordered: Angus Cheeseburger
The Experience: This was not the first time the Burgermeisters attempted to dine at the Kingswood. On a Thursday night a few weeks ago the restaurant was so crowded that they had to wander the streets of the West Village until coming upon A.O.C. This time, Brad and Rebecca went on a Sunday night, when the place was sure to be more accessible (and they remembered to make a reservation). Accessible was an understatement, as on this the Kingswood was close to empty. This made for a very pleasant dining experience, as the Burgermeisters were the center of their waiter's attention.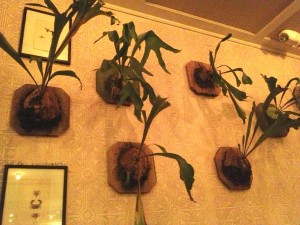 Kingswood is one of the classier joints known for its great hamburger. The atmosphere is dark and relaxed, and the decor is quite tasteful. The only puzzling pieces are the shrubs growing out of the wall. Does anyone understand the significance of these plants?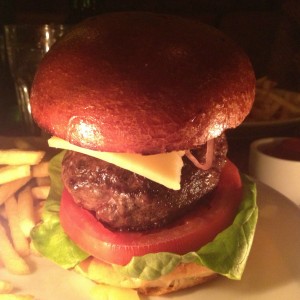 The Taste: Brad and Rebecca were of the same mind when it came to the Angus burger Kingswood. Though different than the Bronte Burger that is advertised on the online menus due to a lack of chili, the burger served was cooked perfectly medium rare. Look below to see just how generous Kingswood's grillmasters were with the pink in their burgers. The cheddar cheese melted onto the burgers as the Burgermeisters ate it, giving the meal a sense of class to match the atmosphere. The julienne onions were delicious atop a patty that tasted of a fine steak.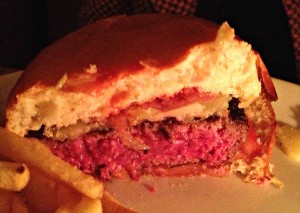 Violently pink, just the way we like it at Burger Weekly.
The downsides to this burger were few and far from glaring. The tomato was sliced too thickly and became a distraction. Rebecca felt that the bun could have been crispier, while Brad was less of a snob about it, citing it's rich flavor. The french fries were the meal's biggest failing, tasting like they came from a bag of frozen Ore Ida potatoes. Rebecca, who had been to Kingswood before, told Brad too late that they should have ordered the truffle fries, which are delicious.
The Verdict: Minor flaws aside, and leaving the fries out of it, the burger at Kingswood is spectacular. Rarely does a restaurant prepare its burger patties with as much care is it does its steaks, but Kingswood makes good in that department.
Kingswood is located at 121 West 10th Street at Greenwich Avenue.