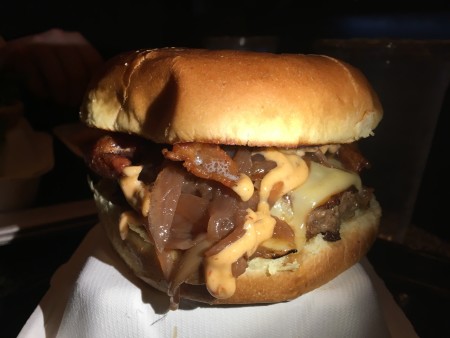 I really enjoyed the burgers at the now defunct Pounds & Ounces. Before they closed up shop last year, they experimented with a burger and hot dog counter. That concept made its way up to Hell's Kitchen last week, where the same team is churning out comfort food at a counter on 9th Avenue. The space is suitably small, with a nice wall mural and very creative dogs and burgs being slinged alongside decadent sides. 
Burger Ordered: The Duke of Lux
The Taste: I was warned that the Duke of Lux was decadent, but I wasn't really prepared for what I got. The Schweid & Sons kobe beef patty was topped with smoked gouda, caramelized onions, bacon, and chipotle aioli. As the aioli dripped off my burger, I dipped the battered fries into it and my brain exploded. So much amazing flavor! The branded buns became one with the onions and pinkish patty. Personally, I think I'm ready for a break from bacon on my burgers, but there was no denying that it was mighty tasty.
The Verdict: The Duke of Lux is just the tip of the iceberg when it comes to fun funky kobe burgers. From burrata topped burgers to mac n cheese balls, this place is churning out some delicious, food coma-inducing eats.
Kings of Koby is located at 790 9th Avenue in Manhattan, New York.
Sign up for Burger Weekly email updates!