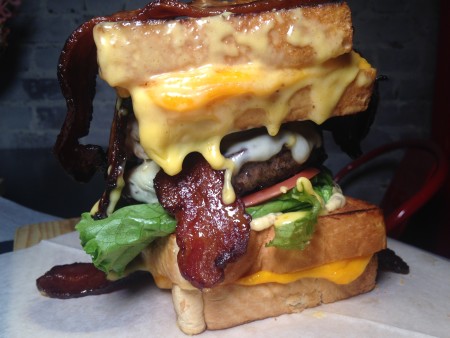 What is there to say about the modern burger scene that hasn't been said already hundreds of times, often by me? Not a lot. But one thing that I personally haven't commented on much is the rise of Frankenburgers. Nowadays, my Facebook feed is made pretty much entirely of food sites posting videos of gigantic food monsters. Does that mean I've hidden most of my Facebook friends? Yes it does. I find everyone annoying and I'm not sure what to say or do about that. Generally, I feel irked by these videos, but yesterday I decided to give in and go to one of New York City's Frankenburger hubs, Killer B.
Burger Ordered: Killer B Burger, Queen B Burger, Stinger, Mac n Cheese Burger
The Taste: First things first, this place is obsessed with bacon and also with mac n cheese. They have a bacon mac n cheese, and also a lobster mac n cheese in which the lobster's husk is filled with mac n cheese and refilled with its own meat. It's kind of perverse. The mac n cheese burger has more mac n cheese than burger. That's not to say there's not a lot of burger. There's a lot of burger, there's just way more mac n cheese. It's nuts.
Also nuts is the Killer B, which is sandwiched between two full blown grilled cheese sandwiches. There's also bacon, and bacon mayo. Also also nuts is the Queen B, which is a double decker pork patty & beef patty, topped with a lot of bourbon candied bacon,  provolone, veggies, and the bacon mayo on a brioche bun.
The least crazy, and in my opinion the most palatable burger that I ate was the Stinger. It's a jalapeño patty, pepper jack cheese, lettuce, chipotle mayo, huge jalapeños, sriracha, and spicy bacon. It's super spicy. I like spicy. It's fun.
The Verdict: The burgers are wild and the sides, particularly the onion rings and sweet potato fries, are really tasty. There you have it.
Killer B is located at 380 3rd Avenue in Manhattan, New York. 
Sign up for Burger Weekly email updates!