Weekday Lunch: Your Key to Hacking Crowded Restaurants |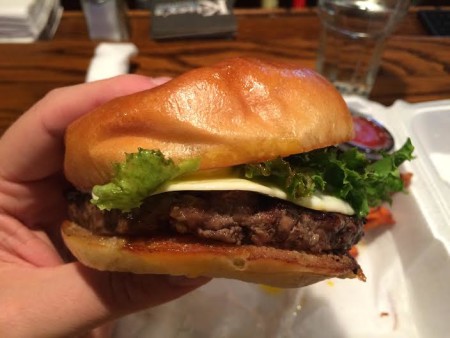 With a location right on Lake Charlevoix, Kelsey's offers up some great views in a casual atmosphere. Like most places in this town, they are crazy busy in the summer time, so I made sure to sneak in during the lunch hours on a weekday to see what kind of burgers they were making.
Burger Ordered: Sunny Side Up Burger
The Taste: There are two kinds of burgers I will always want to try – burgers with BBQ sauce, and burgers with a fried egg. Kelsey's offers both, so I had a tough decision to make. Egg burgers are a little bit harder to find in northern Michigan, so I went that direction this time. This burger is undeniably simple, so much so that I forgot to even add cheese. This is just bun-burger-egg-bun. It comes with LTO and pickles, but since most of those things are gross I just used the lettuce. Simplicity works just fine for this burger, as the egg was done right, the ½ lb. angus beef was cooked to a juicy medium rare, and the bun held it all together reasonably well given the circumstances. I opted for sweet potato fries here, and they were a worthy side treat.
The Verdict: Kelsey's is serving up good burgers in a sweet location just outside of downtown Charlevoix. In addition to the burger I had, they also have an Olive Burger, Mushroom & Swiss, Western Burger, and a Black & Blue Burger, so there is definitely reason to go back.
Kelsey's Lakeside Grille is located at 230 Ferry Avenue in Charlevoix, Michigan.
Sign up for Burger Weekly email updates!