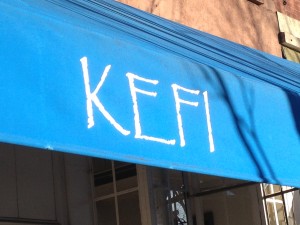 Get Him to the Greek. 
Burgers Ordered: Matt – Arni Bifteki; Brad, Lindsay, Liora & Simon – Bifteki
The Experience: Even as winter has ended and spring has sprung, the changing of the seasons struck the Burgermeisters and their friends with a bevy of ailments.  Matt, suffering from a crippling sinus attack, almost bailed on the Burger Adventure entirely.  Simon finally came off the bench after a nasty wisdom tooth mishap.  Brad limped his way to the Burger Adventure with shin splints.  Guest Burgermeister Lindsay was also sick, but trooped it out because of her desire to be a part of Burger Weekly.  They were battered and bruised, but the Burgermeisters were ready for battle.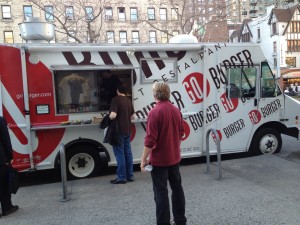 Distraction!
The Burgermeisters were also tempted to make it a quick and easy night when they saw the Go Burger truck a few blocks away from Kefi.  However, having already tried Go Burger's wares they kept their heads high and moved on to a full night of Greek burger dining.
The Taste: After a brief discussion over whether or not a burger made of lamb meets Burger Weekly standards (in hindsight this was a silly discussion… OF COURSE it does) Matt decided to buck the trend and be the one Burgermeister to order the Lamb Burger.
Matt enjoyed the hell out of his Arni Bifteki, but before he could take one bite, he had a plate of meatballs to get through first.  Despite the fact that he was eating what would surely be a lean patty, Matt felt that he needed some beef in his meal.  Five meatballs later he was ready (and more than able) to tackle his burger.
Matt said the spices kicked, and that the lamb was tender and juicy.  While the spices weren't overpowering, he found his meal to be a little on the salty side.  Brad had tried this burger on a previous trip to Kefi, and was happy with his choice of a lamb-free meal.  Kefi prepares lamb in a very authentically Greek manner, meaning that if you're not ready for a hefty amount of seasoning you might be caught off-guard.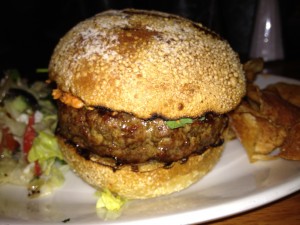 Bifteki = Burger
Simon had high praise for his burger.  He called it the best he'd had on a Burger Adventure so far.  As this was Simon's seventh Burger Adventure, that's rather high praise.  He particularly enjoyed the sun-dried tomato spread, so much so that he pulled the pretentious card and tried to decipher all of its ingredients (more on this in the video below).
Brad was very pleased with the way his burger was cooked.  It was incredibly tender.  It had just a hint of the Greek spice that was present in the Arni Bifteki.  The tomato spread was fantastic and the bun was both aesthetically pleasing and delicious.  He liked it so much he all but made out with it (shamefully on display in the video).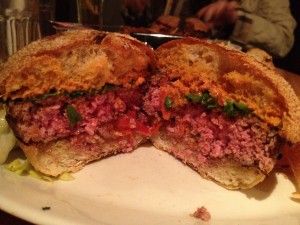 Beautiful
Though neither of them were able to finish their burgers, both Liora and Lindsay said that they enjoyed their meal. The bun, the Pat La Frieda patty and the tomato spread brought it together for them. Both commented favorably about the side salad and delicious potato chips as well.
The Verdict: A success on just about every level, Kefi was a pleasant surprise.  So if you're ever in the mood for a hamburger but all of your friends want Greek, make sure you end up at this Upper West Side gem.
Kefi is located at 505 Columbus Avenue between 84th & 85th Street.