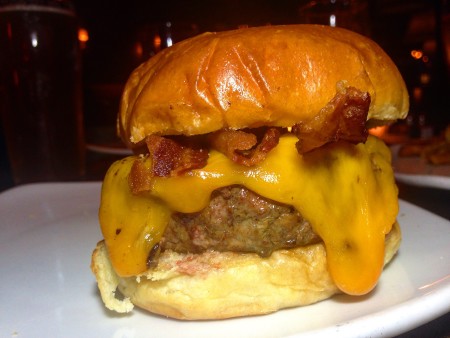 Juniper Bar is an interesting animal. It's one of those midtown bars that gets crazy packed with happy hour office drones, and then turns into dance parties by those drones that evolve into repression-busting energy-exerters. It also has a respectably-sized burger menu. I went with a couple of buddies and we tried three of those burgers.Burgers Ordered: The Burger, the Chipotle Burger, and the Bourbon BBQ Burger
The Taste: So first things first, hats off to Juniper for dedicating so much of its menu to burgers. As the burger boom begins to wane, Juniper hasn't shied away from this dish of dishes. But with that out of the way, Juniper need to do one thing to make all these creative burgers really sing: season the patty more thoroughly.
Whether it be the house burger, which I ate topped with cheddar and bacon, or the Chipotle Burger, which comes topped with tortilla chips, bacon,  caramelized onions, pepper jack , cilantro, and chipotle aioli, or the Bourbon BBQ Burger, which features pepper jack, crispy onions, and smokey bourbon barbecue sauce, you still need the beef to be the centerpiece. Now don't get me wrong, the toppings on all of these burgers were delicious, but this place has the potential to be a genuine "best burger" destination in New York City if they just give a little more attention to those beefy centers.
The Verdict: Midtown is a weird part of Manhattan when it comes to food, and Juniper has a very interesting menu in a sea of boring spots. Maybe by the time you go, they'll have started seasoning the burgers more thoroughly.
Juniper Bar is located at 237 West 35th Street in Manhattan, New York.
Sign up for Burger Weekly email updates!