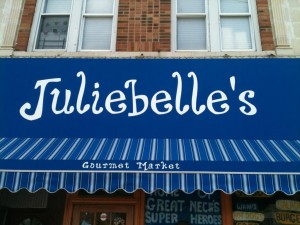 Stuffed and Topped
Burgers Ordered: Christopher – Burning Bridges
The Experience: Juliebelle's is a quaint little sandwich shop featuring some pretty cool window art on the outside and walls covered with black boards on the inside. There are several small tables capable of accommodating two guests each. There is also a large counter to sit at like the old-time luncheonettes. Each one of the aforementioned black boards is covered with a different protein option; one whole board each for Chicken, Steak/Pork/Beef, Burgers, Cold Cuts, Quick Bites (Fries & Sides), Salads, Hot Dogs/Grilled Cheese, and also a whole board just for shakes!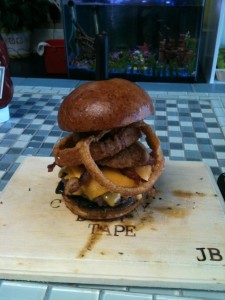 The staff there was very friendly and informative; they let us know that everything is made in-house all the way down to the bread crumbs. They provided helpful suggestions and were overheard trying to help several other patrons decide what to choose from their massive menu.
The Taste: Christopher ordered Juliebelle's claim to fame, the Burning Bridges; a Burger Stuffed with pulled pork, caramelized onions, and sautéed mushrooms. It's topped with bacon, cheddar cheese, onion rings, and gravy. The side of choice was the fresh cut fries tossed in chopped garlic and parmesan. This burger was massive. It was so big that a large steak knife was shoved through it to hold it all together. Did Christopher use this knife to cut his burger? Of course not! He mashed it down, hefted it up and took a massive Burgermeister-sized bite.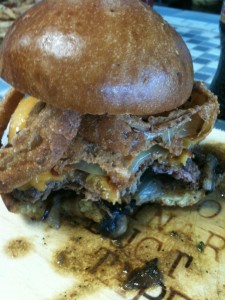 Christopher touted this as a delicious burger, consisting of flavorful beef stuffed with delicious components. And the individual components weren't getting lost either. Christopher was able to pick out the flavor of each ingredient. Some burgers are just stuffed with a big old mess of indistinguishable ingredients, leaving its eater unable to really able to appreciate any of them. However, the Burning Bridges allowed each taste to stand out and serve to enhance the overall experience of the burger.
The fries were amazingly delicious. They were fresh cut and fried up to perfection, topped with just the right amounts of both parmesan and garlic. They were flavorful and yet not overpowering.
The Verdict: Juliebelle's is a fantastic place to grab a delicious burger at a very good price and is run by some really friendly and hardworking folks. Quality food prepared and served by quality folks, one could definitely see Julibelle's becoming a habit. It gets the highest recommendation for all you Little Meisters out there.
Juliebelle's Sandwich Shop is located at 98 Northern Blvd in Great Neck, New York.