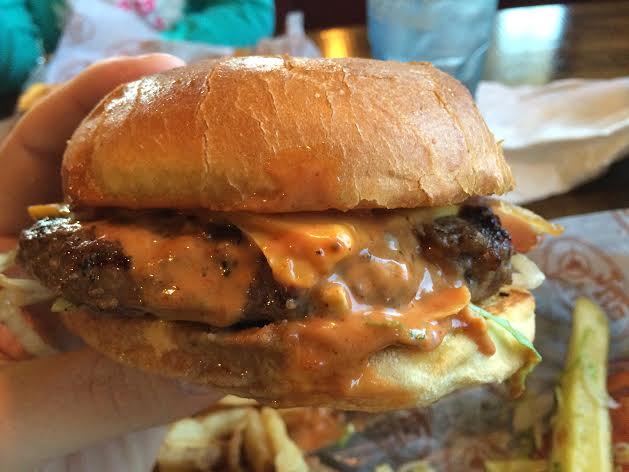 The Experience: The former restaurant at 1301 Spring Street in Petoskey was a rather lackluster joint that it didn't seem like it would be missed by anyone. When JR's Hometown Grill and Pub was being built, I paid it little mind. But my burger curiosity got the best of me when I checked out their menu for kicks, and I decided I had to go there. The inside is nice but not particularly memorable, but on a lazy Sunday afternoon it was a perfect place for myself and my Littlest Burgermeister to grab some grub.
Burger Ordered: JR's Signature Cheese Burger
The Taste: At a place called JR's, it would have felt silly not to get JR's Signature Cheese Burger on my first visit. The burger is a ½-pound made to order 100% Angus beef patty, and topped with melted American cheese, crisp bacon, lettuce, tomato, red onion, and their special ancho sauce. I had kind of written off JR's as just another ho-hum Applebee's-type place, and that proved to be a mistake. Their burger packed a punch of deliciousness straight into my mouth that I was just not prepared for. The Angus beef was wonderfully flavorful and perfectly juicy. The bacon, cheese, and LTO were solid, but they pretty much stayed out of the Ancho sauce's way, and that was a smart move. The Ancho sauce is tremendous and was the perfect topping to set this burger apart from others, something I've noted in past reviews is lacking in other area burgers. Also, the beer-battered fries that I got for the burger were enjoyed by both myself and my three-year-old, so that's win-win for me.
The Verdict: This was one of the more pleasant surprises I've experienced in recent memory, as I expected almost nothing here and got something pretty great instead. This is the fourth JR's location after Adrian, Tecumseh, and Brooklyn (Michigan), and I can see why they've been able to expand.
JR's Hometown Grill and Pub is located at 1301 Spring St in Petoskey, Michigan.
Sign up for Burger Weekly email updates!