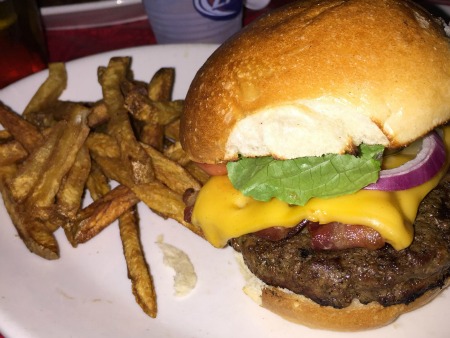 Last Saturday, I sat down for a burger at a neighborhood staple called Joyce's Tavern. It's a quaint Irish bar located on one of the main drags on Staten Island's south shore. A small bar with maybe seven to nine tables, it's nestled between two Italian salumerias. It's the type of place that everybody knows your name.
The atmosphere was good, football games on the tube and a bar full of blue collar-types discussing the Yanks, Giants, and how much there wives were busting their chops. After having a beer at the bar waiting for a table we were seated.
Burger Ordered: 8oz Angus Bacon Cheeseburger Deluxe
The Taste: I ordered mozzarella sticks and cheddar jalapeño poppers along, with the 8oz Angus Bacon Cheeseburger Deluxe. In this case, deluxe meant onion, lettuce and tomato, and a side of fries. The fries were mediocre at best, which was disappointing. But the mozzerella sticks and poppers were phenomenal. No homemade recipe to either, they were just the good old frozen jobs you probably could buy at any supermarket. But cooked to perfection and brought to the table nice and hot!
Now on to the burger, which was definitely cooked more than medium. It was a little dry, but still of decent quality and taste. The burger was served on a hard roll, which was toasted well.
The Verdict: All in all, was a good experience, but not a great one. If you're looking for a decent burger at a really good price Joyce's will do the job.
Joyce's Tavern is located at 3823 Richmond Avenue in Staten Island, New York.
Sign up for Burger Weekly email updates!