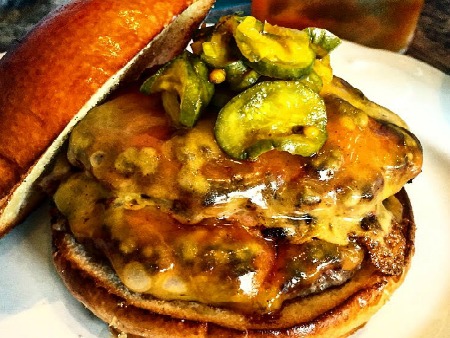 I feel as though I am continuously exploring new areas and telling you how cool they are. This time is no different. Johnny's Grill is in the heart of Logan Square, which is an up and coming neighborhood. They are known for their restaurants, such as Longman & Eagle, which has won multiple Michelin stars. Logan Square is known for its creative atmosphere, for example connected to Johnny's Grill is a place called the Flower Shop. The Flower Shop is a bar and lounge that actually has flowers. The unique thing about this concept is that, Johnny's Grill actually looks like a dinner and the hostess actually seats you in the "Flower Shop." These little nuances create a cool, different experience which I appreciate. But I also appreciate a KNOCKOUT burger and at first glance, it didn't look like I was going to get one.
Once again, I brought a few friends with me to try this burger and I began to be anxious because my reputation rides on their opinions. Walking into Johnny's Grill, my first thought was, "Oh, no." To my surprise we were seated in the Flower Shop that had an impressive bar and a very different feel to it. We all sat down and it was time to order.
The Burger: The Double Cheeseburger
The Taste: Where do I start? I couldn't believe this burger just came out of the Johnny's Grill kitchen. I had literally just walked by it. It was a flat top that you would see a diner cook making sunny side up eggs on. Either way, the burger came out, the cheese was perfectly melted over the two grass fed patties. On top of the cheese were butter pickles and below the patties were fresh diced onions, not grilled or cooked. It reminded me of the onions you'd get on a McDonald's burger but actually delicious.
I first bit in the burger and my taste buds were in shock. The curing salt on the grass fed beef gave a different flavor profile than I was used to and I LOVED IT! The buttered pickles added a sweet to the salt of the patty and the cheese was just right, not overwhelming. I finished the burger before one of my friends even had a chance to look up. Of all the burgers I have tried in Chicago, this was the first time I REALLY wanted to order another.
The Verdict: Unfortunately for me, I did not order another burger. Maybe I was thinking about my waistline but I should have order another, it was that good. This was the best gosh darn burger I have had in the city bar none. I actually do not think I have had a better burger in my life. Shout out to @thejohnnysgrill you all are awesome and I apologize for assuming. I was ABSOLUTELY pleasantly surprised and I will ABSOLUTELY be back! EVERYONE THIS IS A MUST TRY. BEST BURGER IN CHICAGO!!
Johnny's Grill is located at 2545 North Kedzie Avenue in Chicago, Illinois.
Sign up for Burger Weekly email updates!