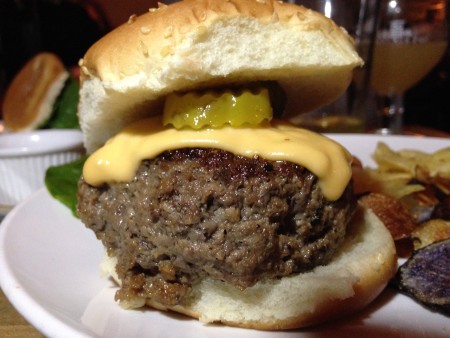 I visited Jimmy's No. 43 as part of a beer crawl celebrating the birthday of my hetero burger life-mate Rev Ciancio. I've been to quaint dungeon that is Jimmy's many times before, but had never been there long enough to grab food, as I'd formerly only ever popped in for a drink. As it turns out, you have to be there forever to order food, because even though nobody else was in the restaurant, it took an hour for three burgers to come out. So if you're the most patient burger fan in the world, read on to see what you'll get.
Burger Ordered: "The "Best Burger"
The Taste: This grass-fed patty from Fleishers Craft Butchery comes topped with Bobolink cheddar cheese, lettuce, tomato, and pickles. It's as simple as a pub burger gets, and in true pub burger fashion it's a hefty patty. The crusty brown exterior was actually quite delicious, and with crunchy pickles and lettuce and gooey cheese in tow, that made for a fun series of bites. But when you get deeper into the burger, the less-than-perfect center becomes more noticeable. I'd love for the thick pub burger to go the way of the dinosaur in favor of two, smaller and more browned patties. It's just such a better eating experience. And as the outside of this patty tasted so great, it only made me wonder what could have been if it had been cut horizontally in half and had more grilled surface area.
The Verdict: Honestly, waiting an hour for a burger in an almost empty bar is pretty unacceptable, and while this burger is solid, I can't recommend it. That is, unless you're going to be drinking at Jimmy's anyway and have some time to kill while you wait for your food.
Jimmy's No. 43 is located at 43 East 7th Street in Manhattan, New York
Sign up for Burger Weekly email updates!