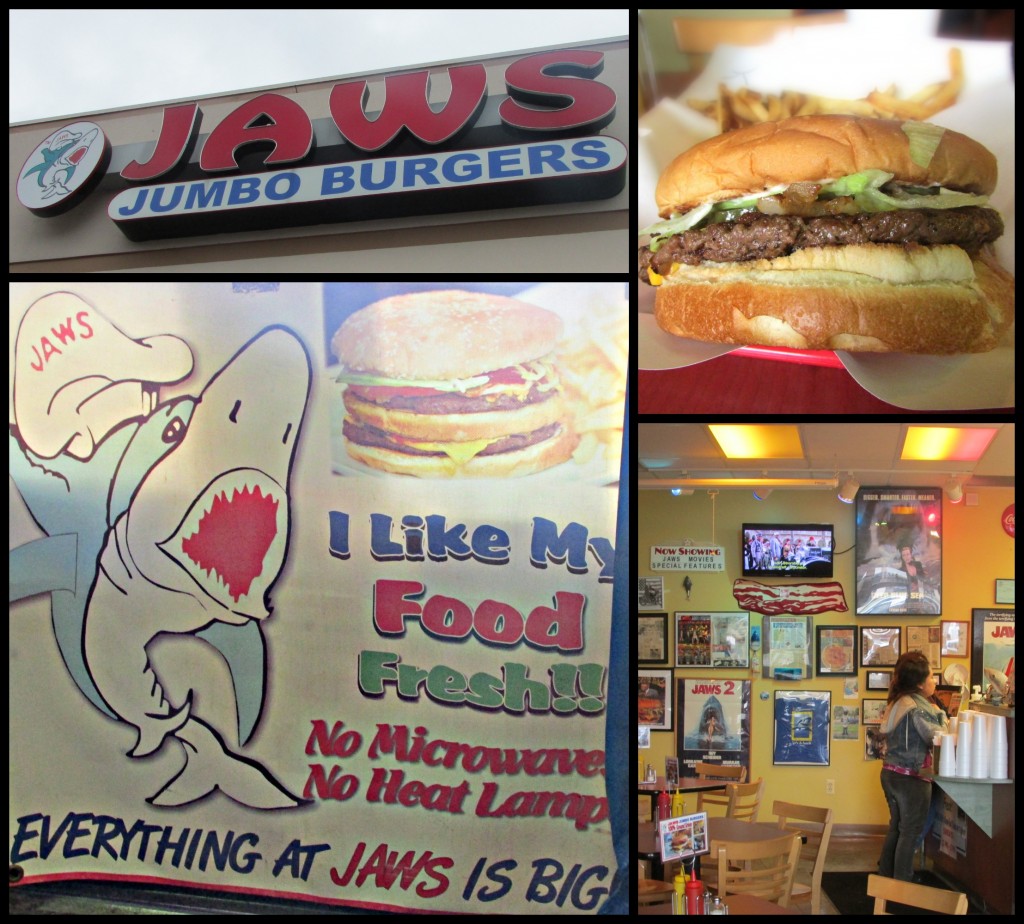 The Experience: I visit Michigan a lot, and thus I've had the opportunity to try a large swath of Metro Detroit's hamburgers. A couple months ago I had the pleasure of sampling the excellent hamburgers at the brand new Freakin' Unbelievable Burgers. And while I was there I was reminded that just next door, Jaws Jumbo Burgers has been slinging patties since 2007. I was joined by Seth Fisher of MGoBlog. Not only is Seth steeped in University of Michigan athletics knowledge, but he filled me in on a good bit of Detroit burger history. His Michigan hamburger lore was a nice appetizer, but you're here to know if Jaws has burger game enough to be the main course.
Burger Ordered: Jaws Jumbo Cheeseburger
The Taste: It is a personal pet peeve of mine when a burger joint serves me shredded lettuce. I don't like the unnecessary mess and I don't the loss of crunch that comes with a full leaf of the signature Rabbit Food. That said, there were no other glaring flaws in the Jaws Jumbo Cheeseburger (except their cash-only policy, which is terrible). For it's incredibly low price, it beats the similarly structured McDonald's Quarter Pounder and Burger King Whopper. Seth likened it to Wendy's signature burger, but I was left feeling much less oily and disgusting than I have after eating a Wendy's grease-bomb. It had a classic fire-grill taste, and before I knew it I had housed the damn thing.
The Verdict: Other burger joints in the neighborhood have flashier burgers, but I don't know if you can beat the price (especially the ridiculously low combo meal price) of Jaws Jumbo Burgers. At the very least, forgo the drive-thru and pick up a meal from this joint. But only if you have cash, because no credit cards are accepted here.
Jaws Jumbo Burgers is located at 29216 Orchard Lake Road in Farmington Hills, Michigan.