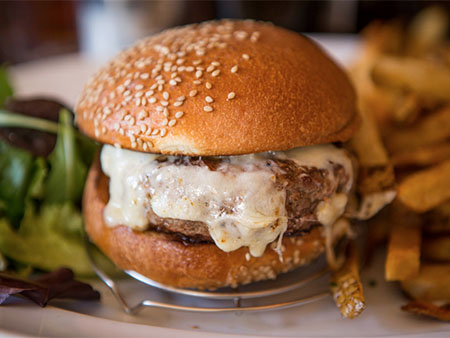 I'm going to level with you, while the burger at James is pretty good, it's really only getting a spot on Burger Weekly because it was sandwiched between two amazing burgers during the burger crawl that I've been writing about for the past two weeks. This is part of the problem that comes with eating too many burgers because you write a burger blog (or are a burger fanatic who doesn't write, I suppose).
James was busy when Mike from Burger Lift and I dropped by a few weeks ago, and the while there was plenty of wait staff on hand there, they seemed to have some trouble staying on top of the customers. That aside, the place was bright and breezy, and generally pleasant to be inside of. 
Burger Ordered: The Classic Burger
The Taste: I remember enjoying this burger while I was eating it. I remember the Vermont cheddar cheese being particularly tasty. I remember liking the way that it complimented the grass-fed Black Angus patty. Beyond that, I have to say the burger wasn't particularly memorable in the face of the other burgers I'd eaten that day. The fries in particular were somewhat disappointing, though on a burger crawl it's a mistake to eat all of your fries anyway.
The Verdict: On Monday nights James puts their burgers front and center with a Burger Night menu. On that menu this burger is $14, four dollars less than it is on the brunch menu. James' burger is worth trying, but it's more worth it when it's at its cheaper price.
James is located at 605 Carlton Ave in Brooklyn, New York.
Sign up for Burger Weekly email updates!