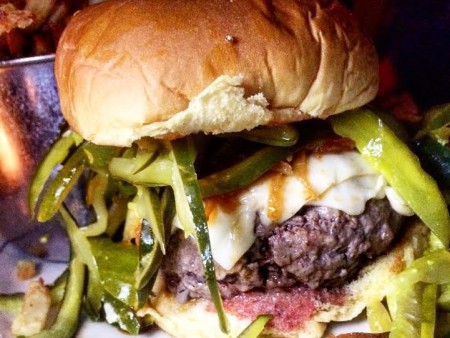 How much food is too much food? For a person like me, it's really hard to say. I don't tend to stop when my stomach tells me I've had enough, which is made double troublesome when you consider that I find myself drawn to restaurants that serve irresponsibly large, heavy portions. Jacob's Pickles, located within the Upper West Side GBZ, is just such a place, focusing on food so comfortable you could use it as a couch, and a craft beer menu extensive and eclectic enough for any beer nerd to drink as much as he eats. The namesake pickles feature heavily throughout the menu, including on their signature burger. 
Burger Ordered: The Pickles & Cheeseburger
The Taste: Topped with a veritable snake's den of hot sour pickles, white American cheese, caramelized onions and mayo nestled within (and around) a potato roll, this burger is deceptively dense and wildly moist. The beef, sourced from owner Jacob Hadjigeorgis' childhood neighborhood butcher, isn't overly seasoned, and thus allows the pickles and cheese to take center stage. The knee-bending that the patty does toward the burger's other toppings sets it apart from others in the neighborhood. True, those (insane people) with aversions to pickles should probably venture elsewhere, but as someone who is always looking for quality burgers that taste different from the norm, Jacob's pickle pile of a burger really did the trick for me.
The Verdict: Stay away if you're afraid of pickles or if you can't handle a massive meal. Having eaten the poutine, the burger, and the Biscuit Bread Pudding for dessert, I should also recommend you stay away if you plan to be productive after your meal. If none of those things are a problem for you, you should immediately make a reservation at Jacob's Pickles.
Jacob's Pickles is located at 509 Amsterdam Avenue in Manhattan, New York.
Sign up for Burger Weekly email updates!