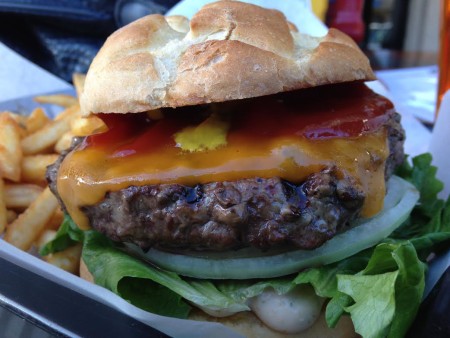 There's not so much going on in Boulder City, NV. It's a town that was built up for the workers who built the Hoover Dam, and has a charming Main Street USA feel. So if you find yourself checking out the dam, or wanting to venture outside of Vegas to camp at the Arizona Hot Springs (as I did), Jack's Place is the perfect bar and grille option. After a freezing cold night of camping and a moderately aggressive hike, nothing hit the spot like a pitcher of beer and a delicious burger.
Burger Ordered: Jack's Burger
The Taste: The first thing that struck me about the burger was the checkerboard shape of the bun. I wondered if it was merely a stylistic choice or if there was some function to it. I forgot to ask, though, because I was too distracted by how satisfied I was by this burger. Typically when I order a burger medium rare, it take a few bites to get to the center and whether it was appropriately warm and red. This burger, however, answered the question on the first bite. After eating cold food for the past 12 hours, it warmed me down to the core. The shape of the burger wasn't too round or too flat; it held together really well but still had some girth to it (spherical patties tend to be difficult for me to eat without them falling apart; flat patties tend to be a bit boring and sometimes not thick enough). And the fries…perfection.
The Verdict: Perhaps it was the context, perhaps it was the quality, likely it was both. But if you're looking for a good old fashioned burger for a great price and in quaint environment, head over to Jack's Place.
Jack's Place is located at 544 Nevada Highway in Boulder City, Nevada.
Sign up for Burger Weekly email updates!