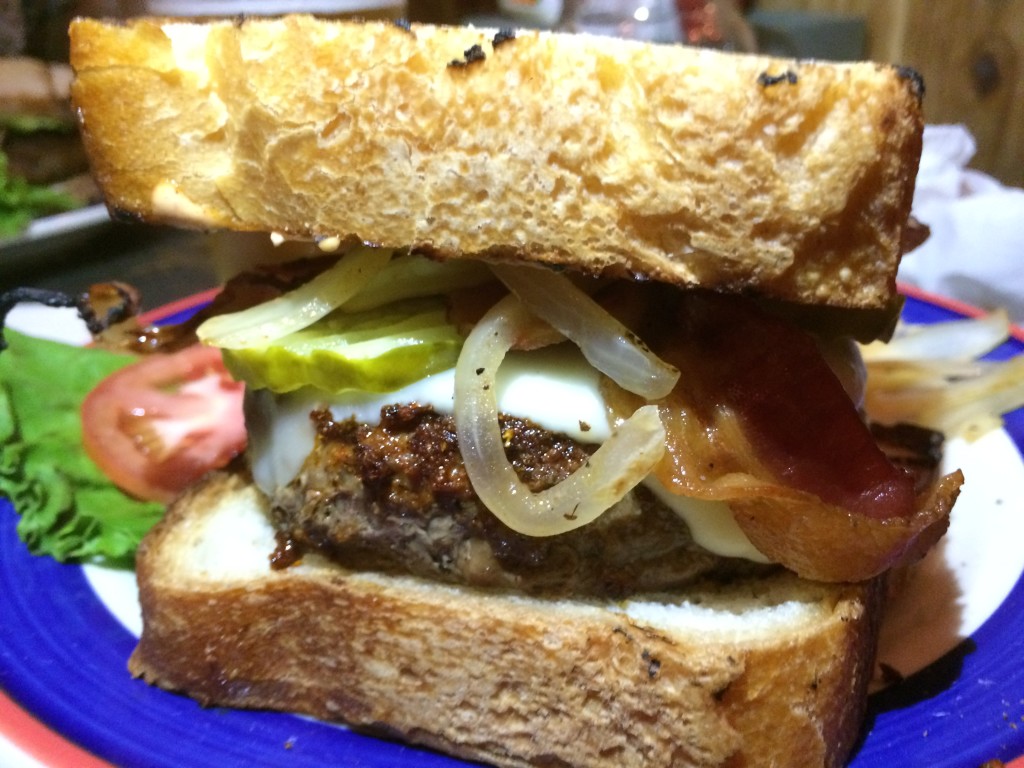 The Experience: Much to my surprise and delight, Amsterdam Avenue in the low 80s has developed a little GBZ. What's most encouraging about this particular GBZ is that it is bad up of burger joints that are taking wildly different approaches to serving great burgers. Joe's is killing it with an elemental burger. Barley & Grain isn't serving a gourmet burger per se, but they're certainly serving a more adventurous dish topped with succulent pork belly. And Island Burgers is putting out quality burgers that cater to a very vocal portion of the dining population.
Island Burgers' original Hell's Kitchen outpost has been around for years. I was excited to learn that they opened up an Upper West Side location because that meant I could really dig into their new menu and learn about their new focus on bringing the heat to burgers. I wasn't the first person to have this desire; Michael Symon visited Island Burgers for his Food Network show Burgers, Brew & 'Que. He was taken with the Napalm Burgers, Island Burgers' spiciest offering. I wasn't quite brave enough to get into the jalapeño and habanero covered burgers, so I went down a notch in heat and tried something a little safer.
Burger Ordered: The Bourbon Street Burger
The Taste: The Bourbon Burger is topped with blackened seasoning, bacon, Jack cheese, bayo mayo, and sautéed onions served on sourdough bread. I was told that it was a favorite of Island Burgers customers and staff. It is listed alongside the Napalm in the "Hot" section of the burger menu, but I wasn't welling up while eating it. The blackened seasoning is what gives most of the burgers in this section their kick, and a kick was certainly there. But what I liked about the heat on this burger was that it didn't take anything away from the insanely juicy beef, onions, mayo or cheese.
The burger was quite good, and it taught me a couple of things about eating burgers with non-traditional buns. I normally refuse to cut my burgers in half, but the sourdough bread's crust was so thick that it proved to be a bad point of entry for my first bite. I didn't think I'd ever write this, but Island Burgers should cut the burgers served on this bread in half before serving it. This would provide easy access to the center of the bread for a soft point of entry.
The Verdict: I love the idea that if I desire, I can eat a great spicy burger, a silly decadent burger, and a wonderfully simple burger all within a couple square blocks. Upper West Siders are in good shape with Island Burgers in their neighborhood.
Island Burgers is located at 422 Amsterdam Avenue in Manhattan, New York.
Sign up for Burger Weekly email updates!