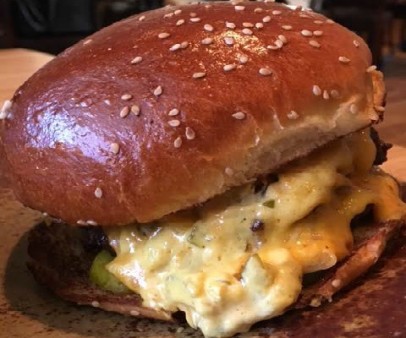 Nestled on a quaint street in Historic Downtown Charleston, is a charming nineteenth century split level house, known as Husk Restaurant. Husk is owned by James Beard Award winning chef and author, Sean Brock. You might've seen him on the recently aired season finale of "Parts Unknown," which was centered on the Charleston food scene. Husk is recognized for serving high quality Low Country cooking with only the freshest local ingredients. They also happen to serve the best Cheeseburger in Charleston.
Burger Ordered: The Husk Cheeseburger
The Taste: The Husk Cheeseburger is composed of two 100% freshly ground chuck patties and a 5% mixture of Benton's smoked Bacon. The patties are seared on a hot non-stick griddle giving them a good crust, then cooked medium well to ensure the bacon is fully cooked. The patties are topped with American Cheese, shaved white onions, a special sauce consisting of a little jalapeño, pickles and a variety of condiments. Lettuce and tomatoes are only added when they are fresh and in season. The burgers are then placed on house made grilled Buttermilk Benne Seed buns; layered with bread and butter pickles on the bottom bun, so that they don't fall off while eating. Prior to grilling, these buns are steamed and lightly spread with butter and beef fat. My server told me the steaming process gives the buns a "squish" which helps seal in all the delicious flavors and juices as well as keeping the burger from falling apart. The result:  A massive, delicious, perfect infusion of juicy, moist, perfectly cooked beef, bacon and cheese heaven. You won't leave hungry, your burger won't fall apart and you'll want to salivate every last bite.
The burger, served only at lunch, Sunday brunch, and in the evenings at the Husk Bar, is $12.00 and includes a side of fried potato wedges. I strongly suggest paying an extra $2 and substituting the potatoes for an order of Geechie Boy Mill Grits, baked in a mini cast iron skillet and topped with a layer of Tennessee Cheddar.
Husk is located at 76 Queen Street in Charleston, South Carolina.
Sign up for Burger Weekly email updates!