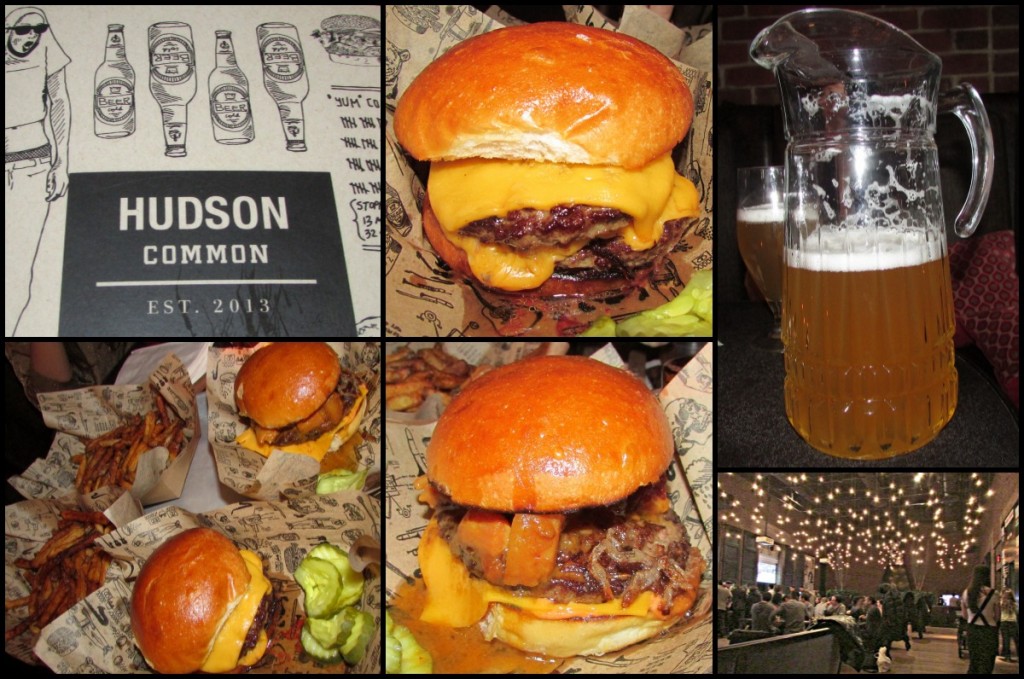 The Experience: Hudson Common is one of the newer restaurants in New York's burger scene, but the joint is performing strongly in its rookie year. Nestled in the Hudson Hotel, a midtown building that has an unmistakable facade, the beer hall and burger haven is perfect for a weekend night out. Burger Weekly was alerted to Hudson Common's "uncommon burger" menu, but what got them in the door was their Urban Daddy March Madness (you can be alerted to burger deals by signing up for Burger Weekly's newsletter) deal of two burgers, two fries, and a pitcher of beer for half off the regular price. Like most hotel restaurants, Hudson Common isn't the cheapest eatery around, so the deal certainly helped. The Burgermeisters ordered their burgers at the food counter and their beer at the bar. After a nice conversation with the burger master, there was nothing left to do but dine.
Burgers Ordered: The BBQ Bacon Burger and the Double Double Burger.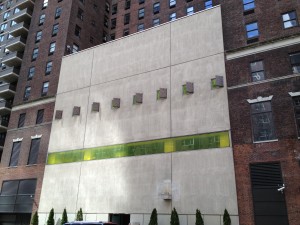 The Taste: The bacon on the BBQ Bacon Burger was served in thick delicious chunks. It was complimented by the barbecue sauce, which was incredibly sweet and wonderfully juicy consistency. In the tradition of the truly purist burger constructions, the cheese was on the bottom of the patty.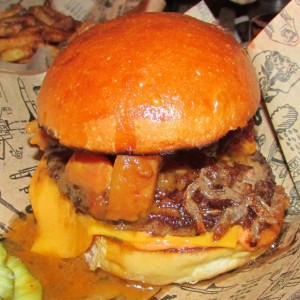 The Double Double was one of the most powerfully flavorful burgers tasted in Burger Weekly history. Topped with a buttered and toasted bun, the two patties were seasoned in such a way that the Burgermeisters were truly caught off guard. A true Slow Down Burger, the entire meal was finished off all too quickly.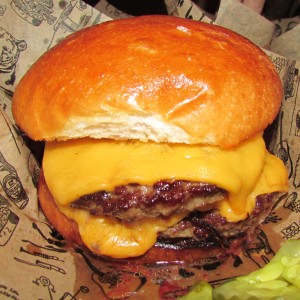 The Verdict: The burgers here are quite simply some of the most decadent you'll have in New York. Juicy beyond belief, and flavorful beyond measure, they're a must-have for any burger fan. The atmosphere is a lot of fun, but the burgers alone make Hudson Common more than worth the trip.
Hudson Common is located at 356 W 58th St between 8th Avenue & 9th Avenue in the Hudson Hotel.