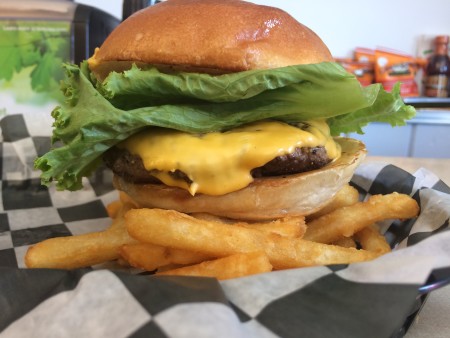 Usually a restaurant named after a food that is not a burger isn't the best place to get a burger. However, since this restaurant is mere blocks from my office, I've been there a handful of times, and have always ordered the restaurant's namesake. Finally, I decided it was time to try something different. To live a little. Is it crazy to order a burger from a hot dog restaurant? Let's find out.
Burger Ordered: 1/3 Burger
The Taste: As the name would suggest, this is a 1/3-pound burger seared to order. It's served on a French style bun with LTP – lettuce, tomato, and pickle. I forgo the tomato and pickle because, ew, but the lettuce is intact. I also added American cheese for an extra $1, because a burger without cheese just isn't right. I'm happy to report that this is a tasty burger, and was cooked a nice medium rare, just as I ordered. Sometimes quick serve places just make all their burgers the same, but the care HotDoggers put in definitely didn't go unnoticed. Also, the French fries (which come in a combo with a drink for an additional $3.59) are SO good. They're crisp and delicious, and always come out hot. My affections for them are strong.
The Verdict: HotDoggers is a perfect little place to get lunch. To me the menu has too many options on it, because there are really only two things I would get. But those two things are well worth getting. I'll be back.
HotDoggers is located at 117 Antrim Street in Charlevoix, Michigan
Sign up for Burger Weekly email updates!