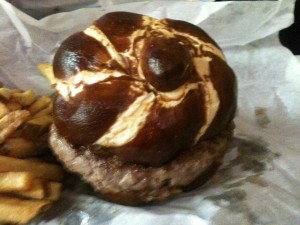 Burgers Ordered: Christopher – Beef Burger.
The Experience: My wife and I had decided that we wanted to do something special for our Anniversary this year and coincidentally we had a ton of frequent flier miles that we had acquired as a result of our using our check card for everything. That includes paying for my culinary school tuition. Erin had gotten really into Angels & Airwaves as of late and it turned out they were only playing shows in California. We decided it would be pretty awesome to head out west to see them play. We also scored tickets to see Matt Skiba from Alkaline Trio play an acoustic set while we were out there. I decided to do some research and found an article on the 10 best burgers in Los Angeles. I read through all the burger descriptions as well as checking out the joints' locations in reference to our hotel. The wife and I decided on the Hole in the Wall Burger Joint.
Now this place literally is a hole in the wall. It's a tiny little space with small tables and it's cash only. We had done our homework and came prepared. You grab a card off the wall and you select your protein, bread, spread, cheese, and whatever other toppings you desire. You hand your card in to the man at the register, tell him how you want your burger cooked, pay him and wait. We sat at our little table as I eagerly anticipated the yumminess to come!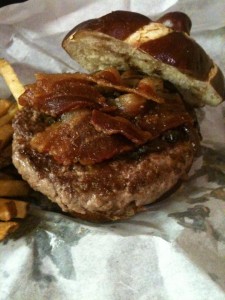 The Taste: I have to say, my burger was absolutely incredible, one of the tastiest burgers I have ever consumed. Cooked perfectly medium rare, with a delicious tasting patty, awesome caramelized onions, yummy bacon, and a pretzel bun that was absolutely fantastic. The bun had me lamenting the fact that I had never before experienced one! It held up great under my juicy burger and all it's delicious accouterments.
The Verdict: If you're in the Los Angeles area you NEED to have this burger. Seriously, it's fantastic. If this joint was in my hood I would be hitting it once a week for damn sure, it's that good.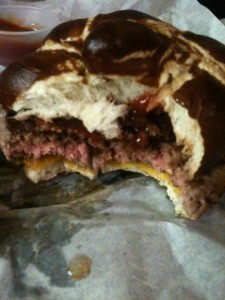 Hole in the Wall is located at 11058 Santa Monica Blvd between South Sepulveda Avenue and South Bentley Blvd.